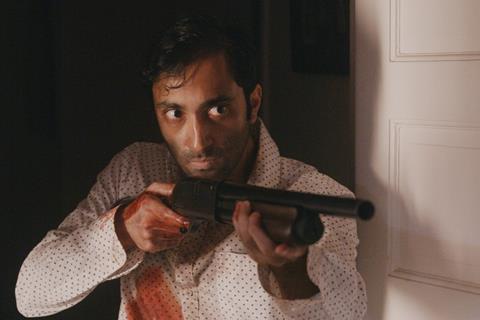 Josh Wallace and Devin Das's US horror satire Keeping Company has won best feature at the inaugural Easter edition of UK genre film festival Grimmfest.
The film received its European premiere at the virtual festiva and follows two salesmen who knock on the wrong door and find themselves trapped in a stranger's basement.
A special mention went to Kourosh Ahari's The Night, an Iranian psychological horror starring Cannes award-winner Shahab Hosseini (The Salesman), which IFC Films acquired for North America last year shortly before its screening at Sitges.
The spin-off event to Grimmfest was launched after last year's traditional October festival was moved online, due to the pandemic, and was meant to mark a return to physical screenings for the organisation. But ongoing cinema closures and restrictions meant the Grimmfest Easter Horror Nights took place virtually from April 1-5.
Further awards saw Australian filmmaker Justin McMillan win best director for supernatural crime drama Sweet River, while Canada's Justin McConnell received an honourable mention for his independent filmmaking documentary Clapboard Jungle.
Best performances went to Helena Puig and Antonio Alcantara, co-stars of Pablo Olmos Arrayales' Rendez-Vous, a Mexican psychological thriller that unfolds over a single take. Lluís Danés' Spanish crime thriller The Barcelona Vampiress, which previously won the audience award when it premiered at Sitges in October, won best SFX/VFX.
Grimmfest plans to host its 13th edition in early October.