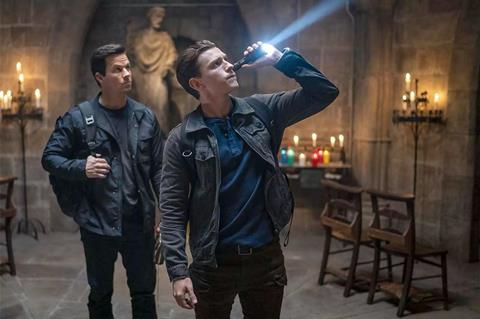 Worldwide box office February 25-27
| Rank | Film (distributor) | 3-day (World) | Cume (World) | 3-day (Int'l) | Cume (Int'l) | Territories |
| --- | --- | --- | --- | --- | --- | --- |
| 1. | Uncharted (Sony) | $58.2m | $226.3m | $35m | $143m | 65 |
| 2. | Death On The Nile (Disney) | $15.1m | $101.2m | $10.6m | $68.5m | 48 |
| 3. | Spider-Man: No Way Home (Sony) | $12.7m | $1.8bn | $7m | $1bn | 64 |
| 4. | Dog (various) | $12m | $35.1m | $1.9m | $4.2m | 19 |
| 5. | The Battle At Lake Changjin II (various) | $10.9m | $601.9m | $10.9m | $601.9m | 5 |
| 6. | Sing 2 (Universal) | $10.5m | $351.4m | $8.4m | $200.2m | 67 |
| 7. | Too Cool To Kill (various) | $9.3m | $387.4m | $9.3m | $387.3m | 5 |
| 8. | Nice View (various) | $6.2m | $199.3m | $6.2m | $199.3m | 1 |
| 9. | Jackass Forever (Paramount) | $4.8m | $68m | $1.7m | $16m | 15 |
| 10. | Marry Me (Universal) | $4.4m | $43.8m | $2.6m | $23.6m | 68 |
Credit: Comscore, all figures estimates, click top right to expand
'Uncharted' down 35% in international holdover markets
Sony's videogame adaptation Uncharted held steady at the top of the global box office, adding an estimated $23.3m in North America (down 47%) and $35.0m in 64 international markets (down 35% for holdover territories). Cumulative totals are respectively $83.4m and $143.0m, combining for a global tally of $226.4m.
UK/Ireland delivered another strong hold, down just 12%, for estimated third-weekend takings of $4.4m, and the top international territory for the February 25-27 session. France ($4.1m), Australia ($3.0m), Germany ($2.6m) and Italy ($1.5m) are all in the second weekend of release.
In cumulative totals, UK/Ireland with $24.8m leads the international pack, although it benefits from seven days more play than many of the other key markets. Next in the table of totals come France ($12.2m), Spain ($8.8m after three weekends of play), Australia ($7.8m), Germany ($6.7m), Italy ($4.9m) and Mexico ($4.3m).
Sony did not provide box office information for Russia, where the rouble fell 40% against the US$ in early trading on Monday, before rebounding to a 28% decline.
Uncharted led in a notably static weekend for global box office, with the top 10 titles for the February 25-27 session exactly the same as the previous weekend (albeit with the order shuffling in certain instances), and no new entries. This is essentially the calm before the storm, with Warner Bros' The Batman hitting multiplexes across the globe this week.
Uncharted has already achieved 82% of the $274.7m total achieved by Warner Bros' 2018 Tomb Raider reboot starring Alicia Vikander, and should soon overtake that number. Uncharted has reached 94% of the $240.7m total grossed by Assassin's Creed in 2016 – the videogame adaptation produced by and starring Michael Fassbender and distributed by 20th Century Fox.
Upcoming markets for Uncharted are China (March 14), Hong Kong (March 17) and Netherlands (March 17).
The film will now face major competition from The Batman in multiple territories, beginning in South Korea tomorrow (March 1 – which is the Independence Movement Day holiday), France and several other territories on Wednesday (March 2), and scores more on March 3 and 4.
'Death On The Nile' passes $100m after third weekend
Disney's Death On The Nile enjoyed a strong hold in North America for its third weekend, down 31% to an estimated $4.5m, and eroded a bit faster in international play, with estimated weekend takings of $10.6m – down 53% in holdover markets. Excluding China from the calculations, the drop is 43%.
Cumulative totals are $32.8m in North America, $68.5m for international, and $101.3m worldwide.
The Hercule Poirot mystery landed in Japan, where it began with an estimated $1.5m including previews.
Cumulatively, China leads the way among international markets with $8.9m, just ahead of UK/Ireland ($8.8m), and then Russia ($6.8m, although that number now comes with an asterisk), France ($5.6m) and Italy ($5.0m).
Death On The Nile has so far reached 29% of the $353m worldwide box office total achieved by Kenneth Branagh's earlier Poirot film, Murder On The Orient Express in 2017.
'Spider-Man No Way Home' climbs back up global chart
Strong traction in both North America and international markets saw Sony's Spider-Man No Way Home climb three places in the global box office chart, back up to third place from sixth the week before.
Weekend box office fell for the comic-book adaptation, but given the lack of powerful new titles, and with other films falling faster and harder, No Way Home drifted back up the chart.
The film added an estimated $5.8m in North America, down 23%, and $7.0m for international, down 21%, combining for a $12.8m weekend session.
The cumulative total is $1.85m, overtaking the initial run of Titanic – but still behind Titanic including rereleases of the James Cameron epic.
No Way Home remains the sixth biggest film of all time at the global box office. The five films above it in the all-time chart (Avatar, the final two Avengers movies, Titanic and the seventh Star Wars film) are all above $2bn, and are unlikely to be caught by No Way Home.
'Sing 2' cracks $350m
Universal's Sing 2 moves up from seventh to sixth place in the global chart, with strong holds both domestically (down 26%) and internationally (down 21%). Overall, the Illumination Entertainment animation added an estimated $10.5m for the weekend session, taking the global total to $351.5m.
Sing 2 is substantially the biggest US studio animation of the pandemic period, ahead of Encanto ($244.1m) and The Croods 2: A New Age ($215.9m). Japanese anime Demon Slayer The Movie: Mugen Train remains the top pandemic-period animation overall, with $454.8m.
Stale titles stifle China box office
Titles released in China on February 1 for the country's New Year holiday, and now just completing their fourth week of play, continue to dominate a becalmed China box office, while also sliding down the global rankings.
The 1950s-set patriotic war epic The Battle At Lake Changjin II is down in fifth place globally (but cracked the $600m barrier at the weekend, with a $602m total) – and remains ahead of other New Year titles such as Too Cool To Kill and Nice View. (See global top 10 chart.)
Top new entry at the China box office, landing in fifth place there, is Japanese romantic drama We Made A Beautiful Bouquet (aka I Fell In Love Like A Flower Bouquet), which has begun with $3.3m for the weekend period, and $5.9m including previews. The film, which is directed by Nobuhiro Doi (The Voice Of Sin, 2020), grossed $34.4m in Japan last year.