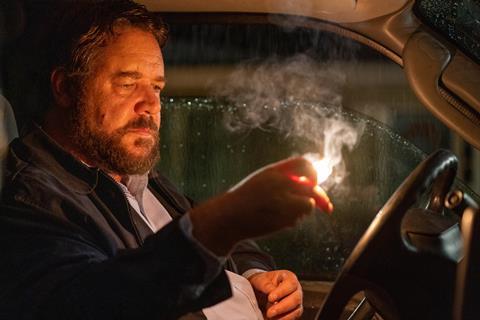 | Rank | Film (Distributor) | Three-day gross (Jul 31-Aug 2) | Total gross to date | Week |
| --- | --- | --- | --- | --- |
| 1 | Unhinged (Altitude) | £174,901 | £174,901 | 1 |
| 2 | Onward (Disney) | £58,951 | £5.7m | 8 |
| 3 | 100% Wolf (Vertigo) | £33,130 | £33,130 | 1 |
| 4 | Star Wars: Episode V - The Empire Strikes Back (Disney) | £31,137 | £7.4m | - |
| 5 | Jurassic Park (2020 reissue - Universal) | £22,987 | £61,842 | 1 |
GBP to USD conversion rate - 1.31
Altitude's Russell Crowe-led thriller Unhinged has topped the UK and Ireland box office on its debut session, becoming the highest-grossing title over a weekend since cinemas reopened.
The film took £174,901 from 250 locations, with several sites still to report. This was the widest release and biggest US feature since cinemas in England began reopening on July 4.
Cineworld began reopening its cinemas (including the Picturehouse chain which it owns) this weekend, with Odeon adding to the sites it had reopened in previous weeks.
Unhinged's figures represent a 263% increase on the previous weekend for the number one title, when Disney's Onward grossed £48,142.
While a location average of £700 is still down on pre-coronavirus times, distributors and exhibitors will see this as a sign that there is potential for new titles to bring in money, despite many cinemas still being closed.
On the same weekend last year Disney's The Lion King topped the UK box office for a third consecutive session, grossing £5.2m; with the opening of Universal's Fast & Furious: Hobbs & Shaw close behind in second on £4.9m.
A representative from Altitude said: "It's bittersweet to herald a number one film at the box office during such uncertainty and hardship, but as cinemas continue to reopen with social distancing measures in place we hope that audience excitement for watching films on the big screen and in safe environments, contribute to further confidence in the cinema experience."
Directed by Derrick Borte, the road rage thriller stars Crowe as a man angered by a fellow driver, with terrifying results.
Vertigo Releasing had two titles opening in UK and Irish venues this weekend. Australian animation 100% Wolf took £33,130 from 153 locations for a £217 average, and will expand by a further 120 locations from this Friday (August 7).
The distributor also had Keith Thomas' feature debut The Vigil, a supernatural horror that premiered at Toronto 2019. It grossed £30,301 from 105 locations, of which £19,257 was previews, and will expand by 85 sites from Friday.
Vertigo's Saint Frances added £6,789 and is up to £28,889 after two sessions.
Picturehouse Entertainment's astronaut drama Proxima, directed by Alice Winocour and starring Eva Green, took £21,541 from 136 locations and has £30,140 including previews.
Lionsgate released its first post-pandemic title with UK filmmaker Jessica Swale's Summerland grossing £15,792 from around 100 locations, for a £168 average.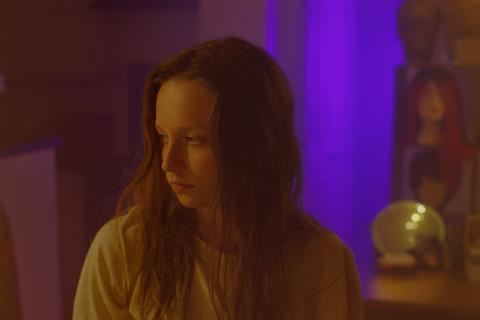 Make Up, the debut feature from Screen Star of Tomorrow 2019 Claire Oakley, played in eight locations through Curzon, grossing £1,492, and has £8,238 including previews. Curzon also released the black-and-white version of Bong Joon Ho's Oscar-winning Parasite in collaboration with Studiocanal, with the title taking £6,397 from 57 locations.
Catalogue titles
Back catalogue titles continue to hold many screens across UK and Ireland cinemas.
Universal led with the 2020 reissue of Steven Spielberg's Jurassic Park, which took £22,987. The re-release has £61,842 in total, in addition to the £48.8m made by the film's original 1993 release.
2020 title Trolls World Tour added £21,071 for £239,149 in total; while Invisible Man put on £7,591 for £6.7m
Disney's Onward dropped to second spot in the chart with £58,951, and has a £5.7m total cume. The studio also had Star Wars: Episode V – The Empire Strikes Back in fourth place with £31,137, and Black Panther grossing £16,793.
Studiocanal also had a 4k rerelease of Flash Gordon, which brought in £5,746 from 42 sites.