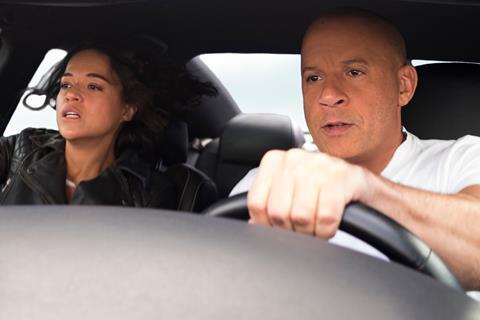 Universal Pictures has pushed back the release of Fast & Furious 10 by five weeks from April 7 2023 to May 19 2023 10 days ahead of the crucial Memorial Day weekend that officially launches the summer season.
Justin Lin directs the upcoming tentpole and is also set to helm the eleventh instalment, marking his fifth and sixth entries in the action franchise that has grossed more than $6.3m worldwide factoring in the Hobbs & Shaw spin-off.
Fast & Furious 9 starring Vin Diesel, Michelle Rodriguez, Tyrese Gibson, Jordana Brewster, Helen Mirren, Charlize Theron and John Cena has amassed more than $725m worldwide since it opened this year.
Universal had initially scheduled the film to open in summer 2020 and postponed it three times due to Covid and held out for an exclusive theatrical release. Some $553m of the overall box office comes from international markets.
The studio also said on Tuesday (December 14) it has moved Untitled Dreamworks Animation Film from March 24 2023 to April 7 2023.
Separately Sony Pictures has moved Brad Pitt thriller Bullet Train from April 8 to July 15, and mystery Where The Crawdads Sing produced by Reese Witherspoon from June 24 to July 22. Thriller The Bride directed by Jessica M. Thompson will open via Screen Gems on August 26, 2022.