Studio reaches milestone for second time; fastest to do so in 2017.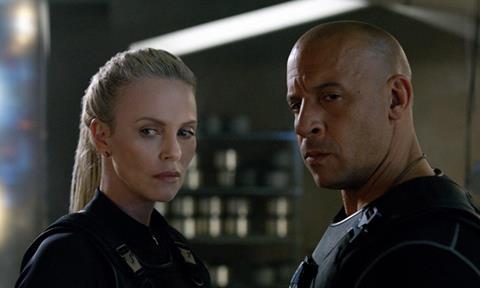 Universal Pictures has crossed $4bn at the worldwide box office for the second time in its 105-year history and in so doing becomes the fastest studio to accomplish the feat this year.
Original franchise titles like The Fate Of The Furious and Despicable Me 3, Sing (2017 portion of its box office), and breakouts like Get Out helped box office surge to $1.265bn in North America and $2.791bn internationally.
The Fate Of The Furious (pictured) delivered the biggest global opening of all time on $542m and the biggest international opening ever on $443.2m.
F. Gary Gray's action tentpole has gone on to gross more than $1.24bn worldwide. It became only the sixth film in history to cross $1bn at the international box office, and is the highest grossing foreign film of all-time in China.
Illumination's Despicable Me 3, which crossed $200m in North America and $500m at the international box office last week, stands at more than $732.5m globally. The animation features the voices of Steve Carell and Kristen Wiig delivered the biggest opening day and weekend for an animated film in China.
Top grossing titles like The Mummy, currently at $392.5m worldwide, and Illumination's Sing, which has grossed $632.3m globally, contributed to Universal reaching the $4bn milestone.
Other top grossing films include Fifty Shades Darker ($380.2m worldwide), Get Out ($252.6m worldwide) and M. Night Shyamalan's Split ($277.8m worldwide).
In 2017, Universal has been number one at the North American box office for a total of eight weekends, the international box office for eight, and the worldwide box office for six.