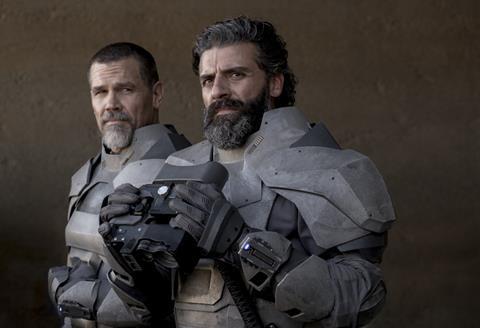 AMC Entertainment CEO and president Adam Aron has reacted to WarnerMedia's 2021 hybrid distribution plan and vowed to "aggressively pursue economic terms that preserve our business".
Aron, who heads the largest exhibitor in the US, made remarks on Thursday evening (December 3) hours after it emerged that every Warner Bros feature in 2021 will open in US cinemas and play simultaneously for one month on streaming stablemate HBO Max.
The films, which include Dune (pictured) and Matrix 4, will open theatrically around the world where cinemas are open. HBO Max is currently only operational in the US but launches in parts of Europe and Latin America next year.
"These coronavirus-impacted times are uncharted waters for all of us, which is why AMC signed on to an HBO Max exception to customary practices for one film only, Wonder Woman 1984, being released by Warner Brothers at Christmas when the pandemic appears that it will be at its height," said Aron.
"However, Warner now hopes to do this for all their 2021 theatrical movies, despite the likelihood that with vaccines right around the corner the theatre business is expected to recover."
Last month WarnerMedia said it was sticking to stick to its December 25 theatrical release date with Wonder Woman 1984 but starting on the same date would make the superhero sequel available for one month on HBO Max.
Aron continued, "Clearly, Warner Media intends to sacrifice a considerable portion of the profitability of its movie studio division, and that of its production partners and filmmakers, to subsidise its HBO Max start up. As for AMC, we will do all in our power to ensure that Warner does not do so at our expense. We will aggressively pursue economic terms that preserve our business.
"We have already commenced an immediate and urgent dialogue with the leadership of Warner on this subject.
"As this issue gets sorted out, we are nonetheless encouraged that vaccines protecting society at large against the coronavirus are very much at hand. So, it is our expectation that moviegoers soon will be able once again to delight in coming to our theatres without any worry – viewing the world's best movies safely in our big seats, with our big sound and on our big screens."
A representative of Cinemark, the third largest exhibition chain in the US, said, "In light of the current operating environment, we are making near-term booking decisions on a film-by-film basis. At this time, Warner Bros. has not provided any details for the hybrid distribution model of their 2021 films."
Both AMC and Cinemark have separately signed deals with Universal Filmed Entertainment Group whereby the latter can opt to move a Universal or Focus Features film from their cinemas onto PVoD after 17 days, unless the film grosses more than $50m in its opening weekend, in which case the theatrical exclusivity window extends to a minimum of 31 days.