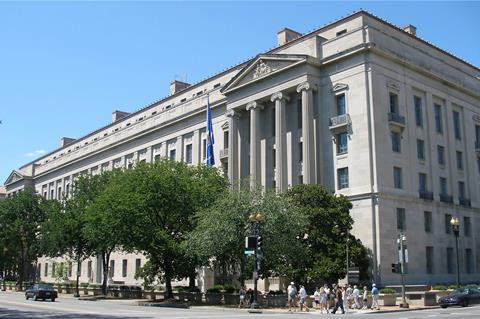 The US Justice Department (DOJ) on Monday (November 20) commenced legal action to block the proposed $85.4bn merger between AT&T and Time Warner on anti-trust grounds.
The suit marks a rare step to block a vertical integration, which does not ostensibly bring together two direct competitors, and will be watched closely by Hollywood in light of recent reports that Disney, Sony, Comcast and Verizon have demonstrated an interest in acquiring the assets of 21st Century Fox.
The DOJ has claimed the combination of AT&T's distribution infrastructure and the vast content stable owned by Time Warner could force competitors to pay over the odds to acquire the same content or networks, and drive up the cost to customers.
"This merger would greatly harm American consumers," assistant attorney general Makan Delrahim from the department's anti-trust unit said. "It would mean higher monthly television bills and fewer of the new, emerging innovative options that consumers are beginning to enjoy."
The development increased speculation over any possible role US president Donald Trump might have played behind the scenes. Trump is a vocal opponent of Time Warner-owned CNN and said a year ago that a deal like the AT&T-Time Warner merger would place too much power in the hands of a few.
After the DOJ filed suit, AT&T responded in a statement: "Today's DOJ lawsuit is a radical and inexplicable departure from decades of antitrust precedent," AT&T general counsel David R. McAtee II said. "Vertical mergers like this one are routinely approved because they benefit consumers without removing any competitor from the market. We see no legitimate reason for our merger to be treated differently."
The Writers Guild of America West also released a statement that read: "Writers Guild of America West welcomes action by the U.S. Department of Justice to block the merger between AT&T and Time Warner. As we have stated since this deal was first proposed, the size, scope and potential harm to both consumers and content creators provide ample reason to block the merger on its merits.
"The proposed combination of must-have content with vast control over distribution would give the company broad power to undermine competition, restrict access to programming and raise prices. This merger would result in a media behemoth even larger than the failed Comcast-Time Warner Cable venture, and should be stopped. With reports surfacing each week of other possible media mergers, blocking this deal has only become more critical."