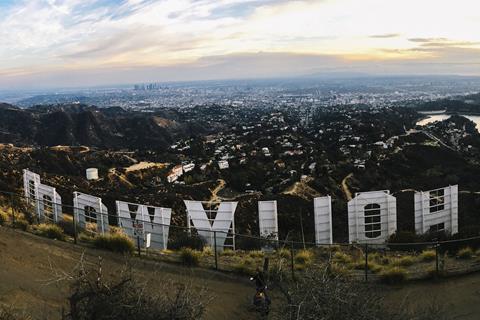 Heading into next week's start of contract talks the US Writers Guild of America (WGA) has issued a report to members highlighting what it says is an imbalance between entertainment company profits and screenwriter pay, driven in part by the transition to streaming.
In Tuesday's (March 14) report 'Writers Are Not Keeping Up', the Guild reiterates that its negotiating team will argue for improved writer compensation after "companies have leveraged the streaming transition to underpay writers, creating more precarious, lower-paid models for writers' work".
It notes that while the rise of streaming has increased demand for features, the range of distribution models has created uncertainty over applicable contract terms "with many SVOD films subject to lower MOW [movie of the week] rates".
The report goes on to say median screenwriter pay has remained the same since 2018 and, taking inflation into account, has dropped 14% in real terms over the last five years. It is also noted how it can take a long time before writers receive their money – nine months for a first draft under $150,000 and six months for a first draft over $150,000.
Writers who come under the lower pay bracket can work 50% longer than those who earn over $150,000 as they can be "uniquely vulnerable to producers' demands for free work", the report continues. The example is given that writers employed under "one-step deals" are required to turn in a first draft but can be asked to do rewrites for free before they receive the 50% payment balance upon delivery.
"In this context, screen minimums are far too low," the Guild asserts. "The current minimum for a first draft non-original screenplay is just $60,932, which is only 1.2% of the minimum budget threshold of $5 million – or 0.3% of a still-modest $20 million budget."
With regard to television, the report claims comedy-variety writers working for streaming services lack the most basic protection of MBA minimums, referring to the Minimum Basic Agreement collective bargaining arrangement that covers benefits, rights, and protections.
The Guild commences talks on Monday (March 20) with studio, streamer and network representative Alliance of Motion Picture & Television Producers. It will negtotiate for increased minimum compensation and higher residuals for reuse markets, and increased contributions to pension plan and health fund.
WGA negotiators will also address regulation of content produced by artificial intelligence, an increasingly pertinent issue in the age of tools like OpenAI's platform ChatGPT, which is designed to converse with humans and help with tasks like composing emails. The application has fuelled wider concerns about A.I. replacing humans in the job market.
The current WGA contract expires on May 1.