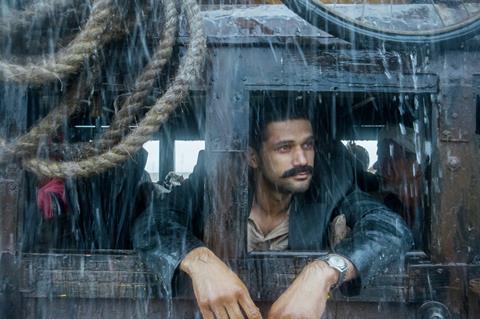 The line-up for the 2018 edition of the Venice Film Festival's independent strand Critics' Week (Aug 29 – Sept 8) has been revealed.
Organised by the National Union of Italian Film Critics, the selection is curated by the general delegate of the Venice Critics' Week Giona A. Nazzaro with the selection committee comprised of Luigi Abiusi, Alberto Anile, Beatrice Fiorentino and Massimo Tria.
This year's opening film is Indian fantasy film Tumbbad, described by the festival as a "parable about greed that travels at the speed of an Emilio Salgari's story shot by Steven Spielberg". The out-of-competition title is co-directed by Rai Anil Barve and Adesh Prasad and is being sold internationally by Eros International.
The closing night film is Tunisian horror Dachra directed by Abdelhamid Bouchnak.
Three of the films in the competition line-up are backed by the Doha Film Institute; A Kasha (The Roundup) directed by Hajooj Kuka; Lissa Ammetsajjel (Still Recording) from Saaed Al Batal, Ghiath Ayoub and Ivan Salatic's Ti Imaš Noć (You Have The Night), a Montenegro, Serbia and Qatar co-production. The full list of competition films is below.
All the titles are eligible for the festival's Luigi De Laurentiis - Lion of the Future Prize that comes with a $100,000 prize.
The main Venice Film Festival line-up will be announced on Wednesday (25 July).
The 2018 Venice Critics' Week line-up:
Competition
A Kasha (The Roundup) - Hajooj Kuka (Sudan, South Africa, Qatar, Germany)
Adam Und Evelyn (Adam & Evelyn) - Andreas Goldstein (Germany)
Bêtes Blondes (Blonde Animals) - Alexia Walther, Maxime Matray (France)
Lissa Ammetsajjel (Still Recording) - Saaed Al Batal, Ghiath Ayoub (Syria, Lebanon, Qatar, France)
M - Anna Eriksson (Finland)
Saremo Giovani E Bellissimi (We'll Be Young And Beautiful) - Letizia Lamartire (Italy)
Ti Imaš Noć (You Have The Night) - Ivan Salatic (Montenegro, Serbia, Qatar)
Special Events, Out Of Competition
Opening Film
Tumbbad - Rahi Anil Barve, Adesh Prasad (India, Sweden)
Closing Film
Dachra - Abdelhamid Bouchnak (Tunisia)