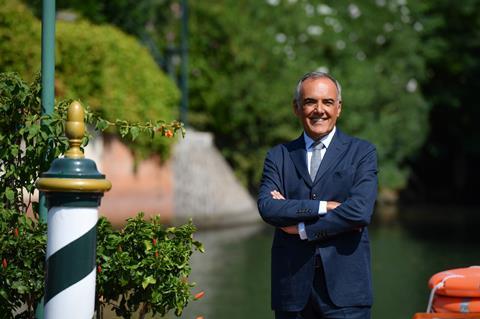 The Venice Film Festival is on track to deliver a physically distanced edition from September 2-12. "Nobody wants an online festival, not the festival managers, not the producers, not the movie directors," as festival director Alberto Barbera put it.
Due to various Covid-19 travel restrictions around the world, European industry executives, press and filmmakers will likely comprise the majority of the international attendees.
Talking after the selection announcement on July 28, Barbera laid out to Screen what guests can expect from Venice this year. Although the final details will not be confirmed until nearer the time, Barbera said he expected the physical distancing and safety protocols to be broadly the same in early September as they are now in late July.
"The festival area will be accessed through eight gateways, the same ones we are used to," he said. "Temperature will be measured in groups to those entering each of those, in order not to create queues."
Although it is not known what technology Venice will be using, group temperature scanning is usually done with the use of thermal imaging cameras and artificial intelligence.
The festival aims to eliminate all queues and gatherings. Anecdotal evidence suggests less press, at least, are being invited this year. Press and industry will have access to the same screenings and there will be no rush queues. All delegates will be required to reserve their screening seat online.
"There will be plenty of screenings for each film," Barbera assured Screen.
Safety protocols in Italy require a face mask to be worn when accessing theatres but it can be removed once seated. Barbera suggested a 50% reduction of seats will be ideal, with every other seat remaining empty. All seats will be numbered.
"Entering the theatre, a code received on a person's smartphone will have to be shown together with the badge, and everyone will be asked to go straight to their seat," Barbera continued. "If everybody will abide by these guidelines it will be pretty easy and we will prevent gatherings and queues."
Physically distanced red carpets and press conferences (in which seats will have to be reserved as well) will also take place.
Women directors, finally
In his 12th year as director, the last of his third mandate, Barbera has selected more films directed by women than ever before: eight of 18 films in competition are either directed or co-directed by a woman.
"Isn't it amazing?" Barbera exclaimed. "In a year devastated by the pandemic there's this small miracle.
"We never had any form of prejudice, despite what many said, we always cared about the fight for equality," he continued, in reference to his poor record on selecting women directors. "Yet we never intended to force the selection to have more women and never intended to have a certain quota of them. We realised how many they were only after selecting the films."
Barbera would not be drawn on whether not having the usual amount of US films to choose from had made the difference. "I wouldn't know. It's difficult to talk about hypothetical scenarios, many films directed by a woman that we saw were pushed forward [in the calendar] too, and we couldn't have them."
There is still the chance more US films may turn up at Venice.
"North American cinema won't be at Venice though we're still in talks with some of them," Barbera said.
The festival is also lacking some major (male) European auteurs: "Lockdown has halted everyone. And those who have their movies ready are hesitant to start promotion when so many theatres are closed. I can't blame them. Paul Verhoeven, Stéphane Brizé, Bruno Dumont, Leos Carax, Emmanuel Carrère, Laurent Cantet… They all decided to wait."
There is also no trace of any of the films selected for Cannes 2020's special Official Selection label and no sign (yet) of a collaboration with Cannes. Barbera and Cannes' Thierry Fremaux are friendly but Barbera opted to sign up for a collaboration with Toronto and New York and a drive-in version of Telluride. He said all the festival directors have been constantly talking as never before since the pandemic hit.
"Finally, we directors talked and exchanged all the info we have, and the one with whom I [talked most] was Thierry," Barbera revealed. "We evaluated all kinds of possible collaborations as the scenarios kept changing until we understood it made no sense to talk about sharing a selection. Cannes had the possibility of making its announcement and we would have been able to see films they couldn't as they were not ready yet."
The two festivals have not totally renounced the possibility of a collaboration – Barbera revealed an announcement regarding this will be made in the first days of August. It will be a partnership involving many different partners.
After the 77th edition of Venice, the newly-appointed president of the Biennale, Roberto Cicutto, will decide whether to confirm Barbera for a fourth mandate. Turning 70 this year, Barbera has no intention to leave and would like to keep his job: "Of course I would accept if it's offered. We are servants and can only hope that someone asks us to stay. This is the only job I can do, the only one I have ever done, apart from directing a Museum of Cinema, but there aren't many of those."