The strand will be bookended by Alice Lowe's Prevenge and Xander Robin's Are We Not Cats [pictured].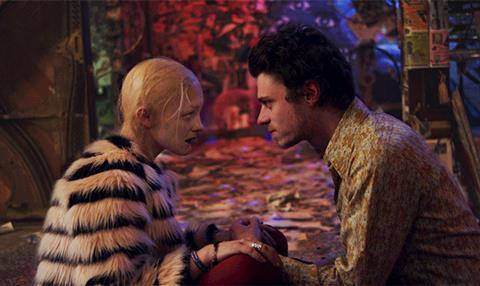 Scroll down for line-up
The Venice International Film Festival's (Aug 31 - Sept 10) 2016 Critics' Week line-up has been revealed.
The independent section of the festival – dedicated to features from debut directors – includes seven titles from five continents.
Opening the strand with be UK director Alice Lowe's Prevenge (out of competition), which stars Lowe as a pregnant woman on a killing spree and will have its world premiere at the festival.
Lowe was co-writer and co-star of Ben Wheatley's Sightseers. The film is a Western Edge Pictures/Gennaker production and was shot in Wales last year.
Closing will be Xander Robin's Are We Not Cats, which was one of three genre titles to screen as a work-in-progress at the Cannes Marche this year as part of an inaugural partnership between genre market Frontières and the Cannes Film Festival.
The film tells the story of a man who loses his job, girlfriend and apartment in a single day. When trying to restart his life, he meets a woman who shares his unusual compulsive habit – eating hair. Theo Brooks and Joshua Sobel are producers.
The seven competition features are all world premieres, including Prank, the directorial debut of Canadian cinematographer Vincent Biron (Bestiaire), and Drum, the feature debut of Iranian director Keywan Karimi, who in October 2015 was sentenced to 223 lashes and a six-year prison sentence (reduced to one-year on appeal) by Iranian authorities for the content of his films.
This year's line-up is the first for the strand's new director Giona Nazzaro, the Italian critic and writer who previously served on selection committees at festivals inclduing Rome and Turin.
Venice Classics
The line-up for this year's Venice Classics strand has also been revealed. Titles vying for the Best Restored Film prize - decided by a jury headed by Italian director Roberto Andò - include Kurosawa's Seven Samurai, Andrei Tarkovsky's Stalker and Woody Allen's Manhattan.
International juries revealed
As previously announced, Spectre director Sam Mendes will head up this year's Venice Competition jury. Joining him will be American film-maker Laurie Anderson, British actress Gemma Arterton, Italian screenwriter Giancarlo De Cataldo, German actress Nina Hoss, French actress Chiara Mastroianni, American director Joshua Oppenheimer, Venezuelan director Lorenzo Vigas, and Chinese actress Zhao Wei.
The jury of this year's Orizzonti strand will be presided over by French director Robert Guédiguian. Joining him are American critic Jim Hoberman, Egyptian actress Nelly Karim, Italian actress Valentina Lodovini, Korean actress Moon So-ri, Spanish critic Jose Maria Prda, and Indian director Chaitanya Tamhane.
Finally, the Luigi De Laurentiis award for debut film will be decided by a jury featuring Spanish producer Rosa Bosch, American actor and director Brady Corbet, Spanish actress Pilar Lopez de Ayala, French critic Serge Toubiana, and jury president Italian actor Kim Rossi Stuart.
Venice Critics' Week 2016:
Akher Wahed Fina / The Last Of Us, Ala Eddine Slim (Tunisia, Qatar, UAE, Libano)
Drum, Keywan Karimi (France, Iran)
Jours de France / Four Days In France by Jérôme Reybaud (France)
Los nadie / The Nobodies, Juan Sebastián Mesa (Colombia)
Prank, Vincent Biron (Canada)
Singing In Graveyards, Bradley Liew (Malaysia, Philippines)
Le ultime cose, Irene Dionisio (Italy, Switzerland, France)
Opening Film – Special Event Out of Competition
Prevenge, Alice Lowe (United Kingdom)
Closing Film – Special Event Out of Competion
Are We Not Cats, Xander Robin (USA)