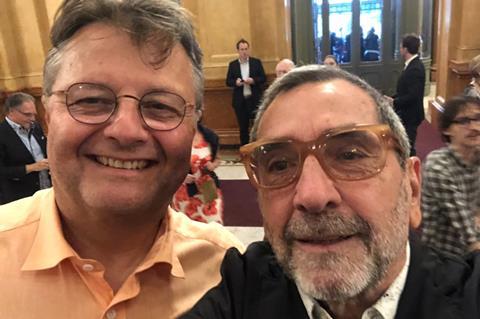 Ventana Sur 2020 online market brass have hailed strong participation around the world for this year's event as Argentina's film body INCAA and the Cannes market extended their partnership for a further three years.
Some 2,957 participants from 61 countries, including 234 buyers, took part in the market that ran from November 30-December 3. Of this number, 546 European attendees represented a 78% year-on-year rise, while 110 from the US accounted for a 49% rise, and 134 from Mexico saw the level climb by 185%.
Ventana Sur co-head and Cannes market supremo Jerome Paillard, who runs the Buenos Aires market with Bernardo Bergeret, cited an "intense" engagement with activities, as 188 online screenings and 118 theatrical screenings (compared to 144 in 2019) generated 1,830 admissions.
Online screenings will continue for many films in the coming weeks on an video library powered by Cinando and accessible to all registered participants. Some films screen in Paris on December 15 and 16, when cinemas will officially reopen in France, as part of the global tour of physical screenings in six cities.
In other data, participants met in 84 digital booth and pavilions, 54 conferences attracted more than 7,000 participants, and 76 projects from Animacion!, Blood Window, Proyecta, Punto Género and SoloSerieS were pitched to audiences.
The Meet The Projects showcase generated more than 420 speed meetings between professionals from 37 countries, while 180 producers participated in the Producers Network events.
The 13th edition of Ventana Sur is scheduled to take place in Buenos Aires, Argentina, from November 29-December 3, 2021.