EXCLUSIVE: The Mexican genre auteur, involved in two projects at Ventana Sur, is weighing up his next directing gig for 2017.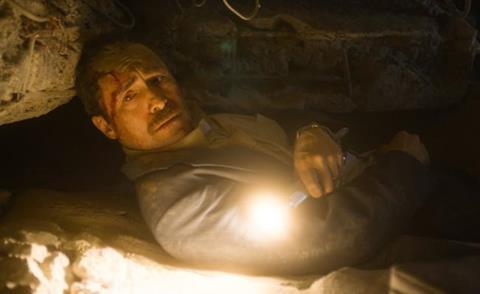 Grau, who earned international acclaim with cannibal drama Somos Lo Que Hay (We Are What We Are – also the name of the 2013 English-language remake) directed the recent Mexican release 7:19 (pictured), an earthquake disaster drama that Elle Driver represents for international sales at the Buenos Aires market.
Grau is also producing San Buenaventura, a horror story about a young woman haunted by visions of a murder who begins to suspect everybody at the family ranch, including her father.
Alejandro Mares directs the project, which is one of the selections in the market's Blood Window genre co-production and pitching sessions, Beyond The Window.
Grau and his Mexico City-based Velarium Arts partner Mayra Espinosa Castro produce alongside Rancho Pictures. The partners have partial backing through Mexico's EFICINE apparatus and are seeking a co-producer.
Meanwhile Grau, represented in the US by Paradigm, is looking for funding and co-production partners on two features ready to go in 2017.
Velarium Arts' Yamaha 300 is a thriller set on a small boat as two fisherman awaiting a cartel drug drop begin to suspect one another when the consignment fails to arrive. Grau adapted the screenplay from a play and is looking for partners on the low-budget thriller.
Keep Quiet has Paz Vega and Juan Carlos Colombo lined up to star and centres on a schizophrenic teenager who thinks his father is a werewolf that can only be killed by someone he loves.
Sony holds worldwide rights excluding France to the Velarium Arts and Alameda Films project.
"I want to make a trilogy starting with We Are What We Are," Grau told Screen of the film he has been trying to pull together for five years. "It's ready to shoot." He added that Sony has earmarked funds and he will apply for Mexican government money early next year.
Grau's dance card as producer includes a documentary shooting now in Guadalajara about the artist Cesar Arechiga and his work with inmates in a maximum security prison.
Dalia Reyes is directing for Chinchorro Arte and Velarium Arts and Grau hopes to have a sales agent in place to show first footage at the EFM in Berlin in February, which is when the producers expect to wrap production. Castro also produces the untitled project, whose strong female contingent includes editor and cinematographer.
Returning to 7:19, the earthquake drama from Velarium Arts, Alameda Films, Alebrije Cine y video and Zamora Films opened in Mexico on September 23 to commemorate the 31st anniversary of the 1985 earthquake that resulted in the deaths of more than 5,000 people in the Greater Mexico City area.
Demián Bichir and Hector Bonilla star as a politician and an elderly government employee approaching retirement who are trapped beneath the rubble when disaster strikes.
The title refers to the time in the morning when the earthquake happened. Thousands of buildings were damaged or destroyed and it later emerged the government had not enforced building codes in the construction process, a revelation that rocked confidence in the ruling Institutional Revolutionary Party.
In what will come as little surprise to fans of We Are What We Are, Grau uses the setting to explore the socio-economic dynamics between the two characters – and others who remain off-screen but can be heard – as they wait for rescue workers.
"When I started to write this film I wanted to make something that would be technically difficult," Grau told Screen. "I told my cinematographer I wanted to suffer. For example we never moved the walls inside the set – that's why we only put the camera in the middle of the actors. I played with the aspect ratio to make the audience feel like a participant and not just make a historical document.

"It was hard for us to work in those conditions with only two actors and a tiny space for my camera and crew. My cinematographer did a great job. The idea was to make this a nightmare, because a lot of people in Mexico lived through that experience in 1985.

"I was 12 and my father is an architect and worked in the aftermath of earthquakes to save buildings. When he came home crying he said the government used really bad materials to make [a building that was destroyed] and it shocked him. That stayed with me and I wrote this story about the responsibility of the government."
Castro produced 7:19 and Daniel Birman Ripstein served as executive producer. The film has toured Mexico and plays in competition at the Festival Internacional del Nuevo Cine Latinoamericano in Havana, Cuba, this month.
"We want to show the film outside Mexico because this isn't only a film for Mexicans – we can make a connection with other people."
Netflix launches the film on December 21.