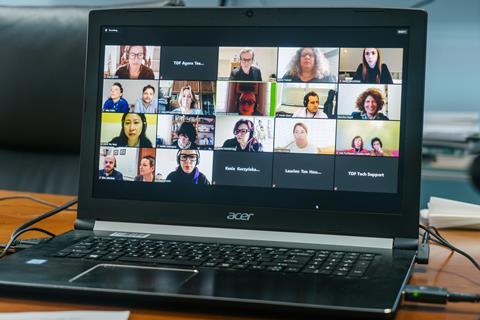 Participants in the Thessaloniki Documentary Festival's first live-stream pitching session have praised the initiative but said it cannot replace face-to-face events.
The Greek festival moved the one-day pitching forum of its annual Agora Doc Market to an online streaming format this week, in the wake of concerns over coronavirus and shortly after its 22nd edition was postponed.
Some 12 documentary film projects took part in Monday's Thessaloniki Pitching Forum, which saw 40 producers, directors, commissioning editors, festival programmers and other industry professionals dial in from 16 countries. Organisers said it was the first time such a pitching forum had taken place entirely online.
Pitching Forum jury member Heidi Tao Yang, who oversees Toronto-based Hot Docs Film Funds and joined in from Canada, told Screen: "The benefit to [the live stream] was that it was still very intimate. The documentary community was engaged and rallied to make it work.
"Web meetings, of course, could never replace face-to-face meetings. When you meet in person, there are variables that make each person and meeting memorable. But this was the next best thing, under the circumstances."
Producer Marianne Mäkelä, of Finland's Napafilms, pitched project Karaoke Nation alongside director Einari Paakkanen from her office in Helsinki.
She told Screen that all participants used Zoom video conferencing software and were given remote training sessions by Thessaloniki staff to test the system. For the pitch itself, they were allocated seven minutes to present and a further seven minutes for questions.
"The biggest benefit is that you don't need to travel," said Mäkelä of the live-stream approach. "For a documentary project, this can save a lot of money. The competition is tough and you might need to travel to several events before you secure funding. [Online pitching] could make participating and promoting easier for those that don't have a good subsidy system.
"Pitching is also exhausting, both mentally and physically, when meeting many people and working long hours. They are, of course, fun and extremely important to meet people from all over the world. But it is also hard work, especially if you travel to many events."
Karaoke Nation follows a karaoke hostess through Finland, from trashy bars to care homes. In keeping with the theme, the producer and director decorated their background with a disco ball and lights to add an extra element to their pitch.
The film is co-produced by Stina Gardell of Sweden's Mantaray Film and Stefan Kloos of Germany's Kloos & Co, in collaboration with MFI; Mäkelä was seeking pre-buys at the Pitching Forum.
Not all commissioners attended
However, the producer added: "Unfortunately, some commissioners who were supposed to be present in Thessaloniki didn't participate in the online pitch and that was a big loss.
"We also now don't have one-to-one meetings, organised by the festival, and if we want meetings with commissioners, this only happens if they reply to your email. Sometimes these meetings are needed after the pitch, as they offer the possibility to talk in-depth."
She added that it is also beneficial to attend such events to discover other projects, which she could potentially co-produce. "I don't think this can totally replace all the live pitches… but this could replace some of the events," added Mäkelä. "In documentary, the industry is generally trying to save the world one film at a time so we should really think about how to make this a new tool."
Also pitching was Stephane Siohan, a French documentary producer based in the Ukraine, who presented coming-of-age documentary Expedition 49.
Pitching from his office in Kiev, Siohan observed that participants were more engaged online. "People were comfortably settled at home or at their office, and seemed perfectly relaxed and focused, without having their nose in their smartphone," he said.
"I then had the opportunity to contact some decision makers by phone, with whom I had long exchanges, of a quality that I might not have had in a festival."
Expedition 49 follows the final journey of Ukrainian adventurer Valentyn, who looks to recruit five teenage apprentices from a war-torn part of the country for an eye-opening trip to the Himalayas. Directed by Alisa Kovalenko, who won best European documentary at Odessa in 2018, it is produced by Siohan for France's East Roads Films and Valery Kalmykov for the Ukraine's Trueman Production.
The producer added: "Of course, there is no substitute for the chemistry of direct physical interaction. But participating in all the major festivals has a significant cost and consequences on your personal life, managing family schedules. Perhaps it would now be possible to mix and match real life events with inventive and creative online events in their form."
Yianna Sarri, head of the Agora Doc Market, said the move to live-stream the forum was made quickly and added: "We had to act really fast to contact all the producers and commissioning editors, and organised everything in two days. The response was amazing."
As for repeating the approach in future, Sarri said: "The magic and the human aspect of a film festival cannot be replaced online. The most important part of what we do is present films to audiences and professionals, to initiate discussions and bring issues to the forefront that we rarely find on the news, TV or even online streaming platforms."
A further 11 documentary projects are being presented as part of the festival's Docs in Progress pitching session, with awards and cash prizes set to be announced tomorrow (March 12). Organisers are also optimistic that the festival, which was meant to run March 5-15, will be rescheduled for late May or early June.
A total of 89 cases of coronavirus have been confirmed in Greece to date, with the first recorded in Thessaloniki on February 26.