INFOGRAPHIC: Research reveals online activity around the festival, which also saw positive buzz for The Grand Budapest Hotel, Bad Neighbours and Frank.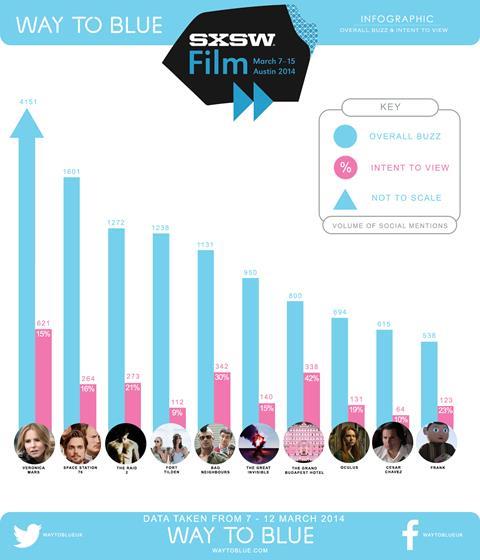 The big screen adaptation of Veronica Mars drew the most online buzz during US festival SXSW, according to comms agency Way To Blue.
The company researched the top 10 films generating interest through social networks and broke down how many mentions the movies secured as a result of their screenings at SXSW alongside what proportion of the conversation has resulted in social chatter expressing a desire or excitement to see the films themselves (intent to view).
A total of 15% of the chatter around Veronica Mars expressed an intent to view.
Despite scoring lower volumes of buzz, Wes Anderson's The Grand Budapest Hotel scored 42% in terms of intent to view - the highest of any film in the top ten.
Zac Efron, Seth Rogan comedy Bad Neighbours scored the second highest intent to view score with 30% out of 1,131 mentions.
Lenny Abrahamson's Frank did not generate a huge volume of buzz as result of its screening at SXSW, with only 538 mentions. But with a 23% intent to view score, it means that those who did see it enjoyed it, generating strong word of mouth.