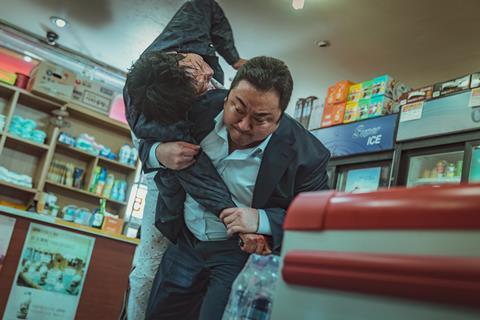 South Korean blockbuster The Roundup has been banned in Vietnam for being "too violent".
Distributor Lotte Entertainment submitted the film for certification to the Vietnam film department affiliated with the Ministry of Culture, Sports and Tourism in May, but was rejected for having too many violent scenes, according to Yonhap news agency.
Starring Don Lee, aka Ma Dong-seok from Eternals and Train To Busan, The Roundup is South Korea's 13th biggest box office hit of all time. The film has recorded more than 12.5 million admissions since its local release May 18, according to the Korean Film Council (KOFIC).
The film is a sequel in The Outlaws (2017) action franchise starring Lee as a 'beast of a cop'. In this story, his character goes to Vietnam with his team to extradite a suspect, but gets involved in investigating a vicious killer and his crew who have been committing crimes against Korean tourists for years in Ho Chi Minh City.
Local industry professionals speculate the depiction of Ho Chi Minh as a lawless place where Korean criminals run amuck might have been thought to give a negative image of the place and contributed to the ban.
It is not the first time a Korean film has been blocked in Vietnam. Aviation action drama R2B: Return To Base, starring Jeong Ji-hoon (aka K-pop star Rain), was banned in 2012 over a combat scene between North and South Koreans.
In March, Vietnamese authorities blocked screenings of Sony action adventure film Uncharted, starring Tom Holland, for showing a map with China's infamous "nine-dash line"- depicting the country's claims over strategically-important swaths of the South China Sea. DreamWork's Abominable was pulled from cinemas in Vietnam over the same issue in 2019.