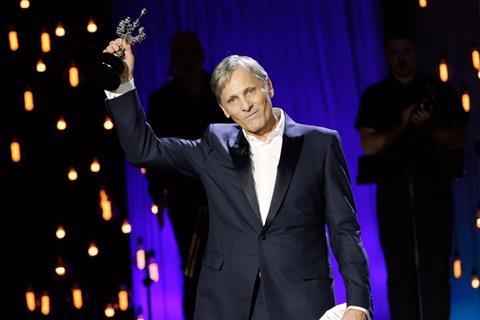 Viggo Mortensen accepted the honorary Donostia award with a speech in perfect Spanish at the San Sebastian International Film Festival this week. The award was presented to him by Agustín Díaz Yanes who directed Mortensen in Alatriste in 2006. The ceremony honoured his acting work in films including the Lord Of The Rings trilogy, A History Of Violence and the Oscar-winning Green Book.
Mortensen's directorial debut Falling premiered at Sundance in January and was selected for the Cannes 2020 official selection label. It has screened in San Sebastian this week and opens in Spain next weekend via Caramel Films. Mortensen also stars in the film, with Lance Henriksen, which tells the story of a difficult father-son relationship.
"In one way or another, Covid-19 has screwed us all and will continue to screw us for some time to come," said tne New York-born Mortensen on stage at the festival's Kursaal theatre. "But it is only another stumbling block in our existence. We must continue to forge ahead, accompanying those who are alone and honouring those who are no longer here, doing it the best we can to the best of our imagination. Long live cinema!"
The actor-director sat down with Screen to talk more about Falling.
What prompted you behind the camera after so many years as an actor?
It was something I had been wanting to do for a long time. But the first time I tried, about 20 years ago, with a screenplay I had also written, I couldn't get enough financing. I managed it at last with Falling. For a first film I was advised to talk about something I knew about, a landscape, characters and topics that were close to me. Even though the family portrayed in the film is fictional, the story is inspired by some true events, some conversations I remember hearing as a child. That's why Falling is dedicated to my brothers.
David Cronenberg, with whom you worked in A History Of Violence, Eastern Promises and A Dangerous Method, plays small part in the film. Can you talk about the influence he has had on you?
We talk frequently and not just about cinema, but philosophy, history, politics, art and literature as well. He's so intelligent and effective as a director, and so skilful when it comes to communicating with the crew, with the actors.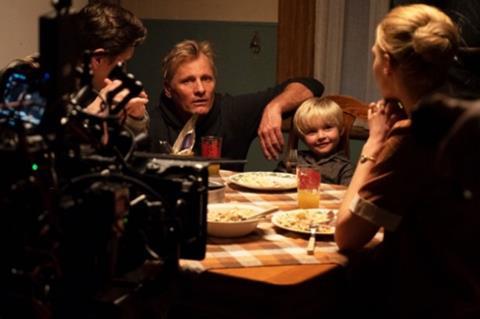 I have learned a lot from him. I told him about the part of the doctor he plays in Falling and that we would be shooting in his town [Toronto] I was not asking for a favour, I told him that if he didn't feel like doing it, I would totally understand. He read the scene and said he was on board. He came to shoot, with the lines perfectly learnt and he made us laugh with his usual jokes. The non-cinephile audience that don't recognise him will just a see a good actor playing the part of a doctor.
Your career has encompassed studio blockbusters and big and small indie films. How do you choose what to make?
What drives me are the projects where I sense I can learn something new. I have had offers to direct again, three or four screenplays written by others, but I didn't see myself doing them, couldn't relate. I'm afraid I'll carry on like I have, trusting my instinct. I will get it right sometimes, wrong the others, but I have no regrets so far. Life is short, uncertain, even more so in current situation. Life itself is a gift and since you spend a lot of time involved in a film you have to choose well, believe in it, because part of your life will be devoted to it.
In an interview like this one, what would we talk about if I didn't believe in the work I was talking about? I'm a bad poker player, it would show if I didn'tbelieve in what I do.