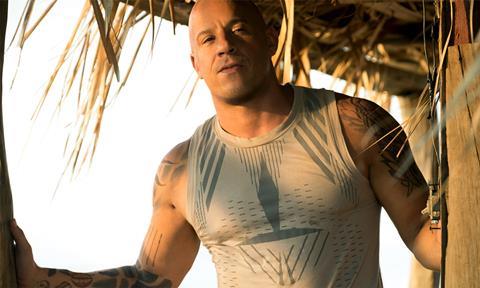 The H Collective, Vin Diesel and his One Race Films have acquired rights from Revolution Studios to the xXx franchise and have lined up the fourth film in the action series.
Revolution Studios retains its rights to the first three films. D.J. Caruso, who directed xXx: Return Of Xander Cage, I Am Number Four, and Disturbia, will return to direct xXx 4 with Diesel reprising his role as Xander Cage.
The role of Xander Cage, an extreme sports athlete hired to work for the government, was first seen in the 2002 original and played an instrumental part in launching Diesel into superstardom. He missed the second film, xXx: State Of The Union in 2005, and returned for xXx: Return Of Xander Cage (pictured). The franchise has grossed close to $700m worldwide.
Los Angeles-based The H Collective will finance the feature alongside investment partners including Sparkle Roll Media, HCH Media, Dadi Cinema, and Angeleno Studio.
Joe Roth and Jeff Kirschenbaum will produce alongside Diesel, Samantha Vincent for One Race Films and The H Collective. Production is scheduled to start in December 2018.
"During my time at Paramount I was lucky to be involved in the development and distribution of xXx: Return Of Xander Cage," The H Collective CEO Nic Crawley said. "The response from the Chinese box office was unprecedented. Bringing the next installment of the xXx franchise to The H Collective complements our diversified slate and mission to produce content for a global audience."
The H Collective is in production on an Untitled Horror Feature produced by James Gunn starring Elizabeth Banks, and is in post-production on Christopher Cantwell's The Parts You Lose.