Judges Shane Meadows, David Tennant and Mat Whitecross attend ceremony at the BFI IMAX in London.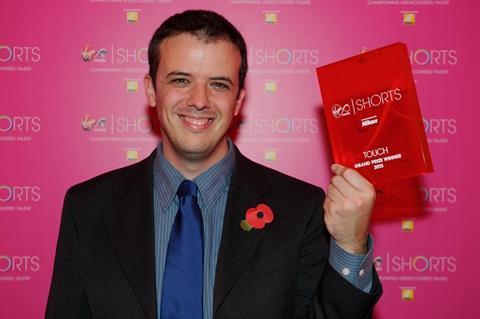 Virgin Media Shorts has revealed the winner of this year's competition.
Nimer Rashed secured the Grand Prize with his film Touch, after being selected by a jury including This is England director Shane Meadows and Spike Island director Mat Whitecross.
Nimer was presented with his prize by Meadows, which includes £30,000 funding towards his next film, at a ceremony at the BFI IMAX in London's Waterloo hosted by presenter Danny Wallace with afterparty music provided by Pulp frontman Jarvis Cocker.
Touch is described as "a poignant reflection on the relationship and love between two people over the course of a life time, told almost entirely through the touch of their hands – from their first connection through to their final farewell."
The piece was inspired by EM Forster's phrase 'only connect' and after many weeks of pre-production, shot over one sunny weekend in various locations, including a park, church and restaurant.
Nimer said: "I wanted to make something that would be really cinematic, where images would tell a story on their own, largely without dialogue. It was an exciting challenge to explain exactly how the film would work, without either a traditional script or storyboards."
Meadows said: "The creativity and breath of talent displayed in the shortlist this year made my job as a judge very tricky. Touch is a beautiful short that manages to convey a range of emotions in a simple and powerful way. It tells a story that we all at some point have been affected by"
In addition to the £30,000 funding, Nimer will receive mentoring and support from the BFI Film Fund.
The competition, now in its sixth year, counts previous winners as Luke Snellin, Jason Wingard and Jennifer Sheridan, who has just submitted the script for her next film to the BFI.
Both the Nikon People's Choice Award Winner, which gave film fans from across the UK, the chance to support their favourite, by voting on Twitter and Facebook, and The TiVo Award Winner, as voted for by Virgin Media customers via their TiVo box, were also announced at last night's ceremony.
Just Say Hi, directed by John McPhail on a budget of just £200, did the double, scooping both prizes, receiving £5,000 film funding, mentoring from the BFI and Nikon digital SLR camera equipment worth up to £5,000.
The winning films can be seen at www.virginmediashorts.co.uk.
Full shortlist
● The Big Day – by Karl Falconer
● Touch – by Nimer Rashad
● A Favour – by James Bradley
● Brando-ing – by Malcolm Roy Greenhill
● Spring Clean – by Ed Clifton, Ed Daggett and Michael Stranney
● The Man Who Couldn't Stop Putting Things In Bins – by Louis Paxton and Patrick Kondracki
● Stick Out – by Anthony Farquhar-Smith
● RVG – by Ian Bucknole
● Handuken – by Chris Chung
● Homey – by Ben Garfield
● Niche in the Market – by Rod Main
● Just Say Hi – by John McPhail
● Jetpack Jack – by Oliver Lee (the 'Lucky 13th')