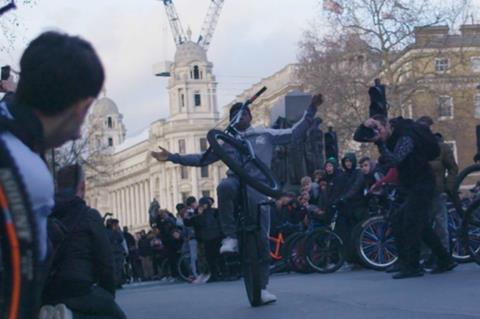 Cannes Docs, the documentary film platform running as part of the virtual Marché du Film, has unveiled its programme for the 2020 online edition.
Running from June 22-26, the platform will feature 10 virtual exhibitors from the international documentary community: Antidote, Antipode, Article Films, CAT&Docs, Cinephil, Dogwoof, Metfilm Sales, Rise and Shine World Sales, Ruth Films, and Sweet Spot Docs.
It has expanded its festival partners, adding DMZ Docs from South Korea and É Tudo Verdade from Brazil, to the European cohort of CPH:DOX, DOK Leipzig, IDFA, Ji.hlava IDFF, and Visions du Réel.
The platform will showcase curated selections of documentaries in progress that are aiming to launch on the film circuit in the coming months. The selections have been chosen by eight international film festivals and organisations, including Telefilm Canada, ParisDOC – Cinéma du reel, and the New Zealand Film Commission.
There are four prizes on offer, up from one at last year's event: the €10,000 Docs-In-Progress award; the Impact award; the Cineli Digital award; and the VOSTAO award.
Co-pro speed meetings as part of Cannes Docs will be open to attendees from June 23-25, with teams from 14 selected projects meeting with co-producers and funding partners.
The chosen projects include Alice Russel's UK title If The Streets Were On Fire, about a community of bike riders providing a haven for at-risk London youngsters; and Yosep Anggi Noen's Indonesian documentary Voice Of Baceprot, about three Indonesian schoolgirls who form a heavy metal band.
Congolese filmmaker Dieudo Hamadi will be the special guest of the programme, attending an 'in conversation' session on Friday, June 26 with Directors' Fortnight programmer Claire Diao.
"We'll be presenting no less than 32 projects in finalisation stage – i.e. eight more than the last two years," said Pierre-Alexis Chevit, head of Cannes Docs. "We also multiplied the number of awards, and are counting on a substantial number of decision-makers attending (including of course some who can't usually attend Cannes physically)."
Speed meetings spotlighted projects
The Last Misfits By The Golden River (Fin)
Dir. Juho-Pekka Tanskanen, prod. Isabella Karhu (Danish Bear Productions)
The Nights Stills Smell Of Gunpowder (Moz-Fr-Ger-Por)
Dir. Inadelso Cossa
Inertia (Fr)
Dir. Nicolas Gayraud, prod. Pierre-Emmanuel Le Goff, Guilhem Olive (La Vingt-Cinquième Heure)
Gina (Mont-Serb)
Dir. Sara Stijovi, prod. Branimir Zugic (Live production)
Babylon (Bra-Hai)
Dir. Francisco Bahia, prod. Alice Riff (Sendero Filmes)
No Objection Certificate (Bang)
Dir. Kazi Krishnakali Islam, prod. Tareq Ahmed (Alo Chaya Opera)
Voice Of Baceprot (Indo)
Dir. Yosep Anggi Noen, prod. Yulia Evina Bhara (KawanKawan Media)
Captains Of Za'atari (Egy)
Dir. Ali El Arabi, prod. Ali El Arabi (Ambient Light)
Gross National Happiness (Bhu)
Dir. Arun Bhattarai, Dorottya Zurbó, prod. Arun Bhattarai (Sound Pictures), Noémi Veronika Szakonyi (Match Frame Productions)
1989 Berlin, 2019 Seoul (S Kor)
Dir. Wooyoung Choi, prod. Sinae Ha (Boda Media Group)
Kongo Is Burning (DRC-Ug)
Dir. Arnold Aganze, prod. Arnold Aganze (Digital Media Production), Ali Musoke (Stone Age Pictures)
Sun Of The Living Dead (Cze)
Dir. Anna Kryvenko, prod. Michal Kráčmer (Analog Vision)
If The Streets Were On Fire (UK)
Dir. Alice Russel, prod. Gannesh Rajah, Julia Nottingham (Dorothy Street Productions)
Lisbon In The Backmirror (Por-Bra)
Dir. Marcelo Gomes, prod. Pandora Cunha Telles (Ukbar Filmes), Ernesto Soto Canny (Misti Filmes), Joāo Vieira (Carnaval Filmes)