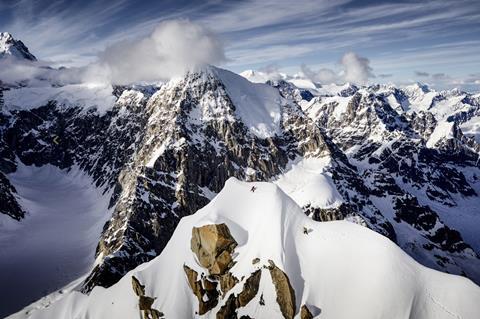 Visit Films has struck a US deal with Greenwich Entertainment on its EFM sales title and adventure documentary The Sanctity Of Space directed by Meru cinematographer Renan Ozturk and Freddie Wilkinson.
The film received its world premiere at Vancouver International Film Festival last year and follows climbers Ozturk and Wilkinson, a journalist and adventure writer, as they retrace the steps of legendary mountaineer and photographer Brad Washburn.
Inspired by Washburn's photographs of Denali National Park in Alaska from 75 years ago, the group plan to scale the range's forbidding Mooses Tooth massif sideways, rather than ascend it directly upwards.
Visit recently completed sales on The Sanctity Of Space to DCM for German-speaking Europe, Mescalito for Italy, and Jupiter Communications SA for France, French-administered territories outside Europe, and French-speaking Africa.
Kate Holland, Visit Films head Ryan Kampe, and Taylor Rees served as producers and the executive producers are David Eckles, Minette Nelson, and Paul Wiegard. The film is an Expedition Studios production sponsored by Goal Zero, Black Diamond and the Filmmaker Fund.
Greenwich Entertainment's Ed Arentz said, "Renan and Freddie have created an awe-inspiring tribute to Bradford Washburn, one of the pioneers of Alaskan exploration, mountaineering, photography and cartography, while continuing mountaineering's rich tradition of honouring those who came before and building on these earlier accomplishments with their own dazzling exploits."