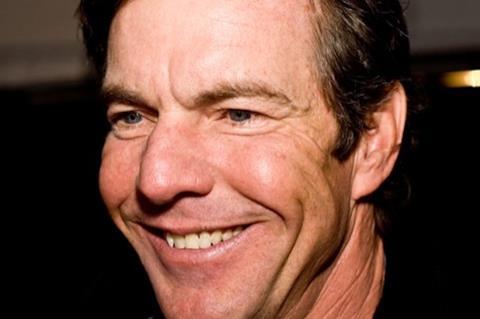 Voltage Pictures, riding high on the $40m-plus international box office of After We Collided, has picked up sales on Rawhide Pictures' upcoming Ronald Regan biopic Reagan starring Dennis Quaid.
Penelope Ann Miller has joined the cast as Nancy Reagan, who stood by her husband's side during his presidency in the 1980s.
It was a tumultuous time in international politics and also in the US, where Reagan's legacy endures as a key figure in modern Conservatism.
Voltage will launch official sales at the virtual AFM next month.
Sean McNamara is directing Reagan, which is anticipated to wrap soon in Oklahoma. The cast includes Jon Voight and Robert Davi.
Howard Klausner (Space Cowboys) wrote the screenplay that explores Reagan's life through the eyes of a fictitious KGB agent who tracks the US president and former actor, Screen Actors Guild president, and California governor.
Davi plays former Soviet leader Leonid Brezhnev, and Voight is the KGB agent. Rawhide Pictures' Mark Joseph is producing.
"Having been fortunate to be involved in the largest scale independent films about American history, The Butler amongst others, it's a great pleasure to be involved in a film about the Great Communicator," said Voltage president and COO Jonathan Deckter.
"Mark has assembled an enormously talented cast with more cast announcements to come and we're thrilled they've entrusted us with delivering this highly anticipated film to international audiences."
Reagan joins a robust Voltage sales slate that includes Liam Neeson action thriller The Marksman, and upcoming third and fourth instalments of the After franchise.