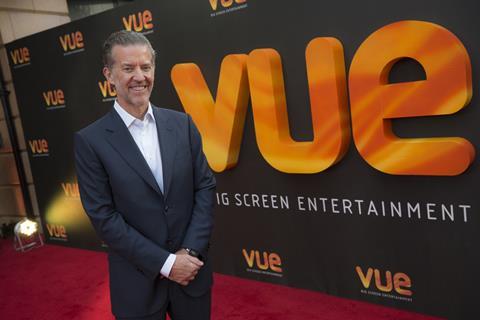 Tim Richards, the founder and chief executive of UK-based exhibition chain Vue International, has been appointed the new chair of the BFI by the culture secretary Oliver Dowden who heads the Department of Digital, Culture, Media and Sport (DCMS).
Richards will take up the role on February 16 and serve for up to three years.
"The BFI showcases the great creativity and innovation of the UK's hugely successful screen sectors, which are already bouncing back strongly. I know Tim will be a brilliant champion for the industry and his extensive experience will help ensure the BFI plays an important role in our cultural and economic recovery, " said Dowden.
A former lawyer, Richards founded Vue International in 2003 when his SBC International Cinemas bought the 36-site Warner Village circuit and formed Vue. It now has 225 multiplex cinemas across Europe and Taiwan.
Richards served as a governor of the BFI board from 2013 until 2020.
"I am honoured and thrilled to have been asked to chair the BFI, especially at such a crucial time for the arts and cultural sector," said Richards. "British film and television have always had a unique power to inspire people globally and I am confident that Britain's talent and creativity will help lead the screen industries to a great future."
Richards will take over the role from interim chair and BFI governor Pat Butler, who was part of a DCMS panel that conducted the search. A shortlist of three is understood to have included Caroline Michel, CEO of UK literary agency Peters Fraser & Dunlop (PFD), and Nick Clarry of private equity firm CVC and chair of the Old Vic. It is understood no external headhunters were used and around 10 people were interviewed, with Michel thought to be the only woman. No person of colour is known to have been interviewed.
The appointment process for the BFI chair is made in accordance with the Cabinet Office's Code for Public Appointments and is regulated by the Office of the Commissioner for Public Appointments' (OCPAs).
Richards will work closely with BFI CEO Ben Roberts who is heading the search for a new head of the Film Fund.
"It's great news that Tim Richards will be the BFI's new chair," said Roberts. "Having been on the BFI Board for seven years, Tim is already under the skin of our organisation, and has been an incredible supporter and champion of the work we do across film culture. His experience and knowledge of the business of film, particularly across exhibition but also across skills and education, will be enormously valuable to the BFI and I am very much looking forward to working closely with him as he steers us into our next exciting chapter."