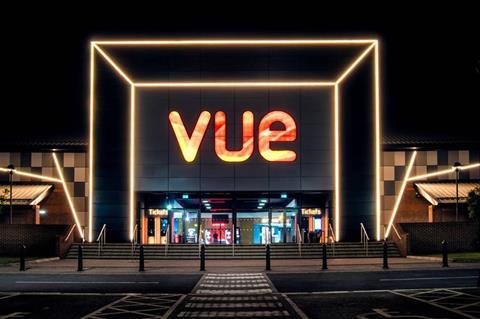 Vue Cinemas will reopen all 88 of its UK venues from May 17, becoming the latest major exhibitor to confirm its plans.
The cinema chain – the third largest in the UK by number of screens – closed all of its venues from December 31, 2020, when all areas of the UK and Ireland were under pandemic restrictions.
Prior to the latest lockdown, Vue had closed a quarter of its sites for three days a week to cut costs. Those restrictions will not apply upon reopening.
Over the past year the company has modified its cinemas, adding almost 5,000 luxury recliner seats; launching self-order food and beverage screens in seven of its venues; and adding new bars to several foyers.
It will also open a new venue in the St Enoch area of Glasgow, which will host nine screens, three of which will have 3D capacity.
Vue has also made changes to its membership policy, allowing members to get a refund on any ticket purchased online up to three hours before the screening starts, with control over the number of tickets to be refunded.
This will allow members to secure refunds for individuals within a group who need to cancel tickets.
"It's been a long year marked by restrictions on our daily lives and we know that the importance of escapism has never been stronger, but we've been more focused than ever on providing the ultimate big screen experience at Vue," said Simon Greenwood, head of operations at Vue Entertainment UK and Ireland.
The news follows similar announcements from Cineworld last month and Odeon yesterday.