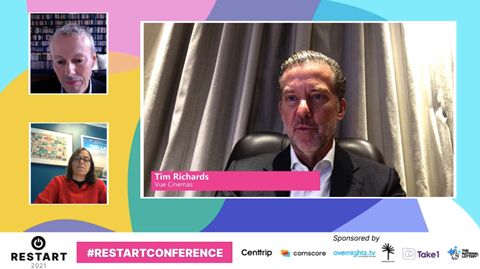 Tim Richards, CEO of European cinema chain Vue, and Clare Binns, joint managing director of the UK's Picturehouse Cinemas, have pledged to work closely with distributors as cinemas reopen in the UK over the next few months and have each signalled a flexible windows policy, temporarily at least.
"Things are changing, evolving," said Binns of the relationship the Cineworld-owned exhibitor-distributor is forging during the pandemic with UK distributors. "We can't look in a crystal ball to see exactly how it will all end. But I think it's good news for cinemas, good news for customers and good news for distributors."
"Distributors are our partners, we're in this together and we have to help each other out of the situation we've been in," she added. "It's very encouraging that partnership is getting us to the point we're at now, and I think that we all have to work. As I said, no crystal ball and we'll see how this evolves and where we end up but we have to help each other out, because there's a lot of money there. We are a shop front for a release and always have been and that shop front has not been there for a year and a half."
Talking at Screen and Broadcast's Restart conference today (May 20), Richards was more specific. "We have a new business model with the studios right now and it's something that's probably long overdue," he said. "What you're going to see in the future is the windows reduce, certainly in our key markets, from four to six months down to 45 days. Some of the European markets will probably take a little bit longer for that conversion, but it's going to all happen in the next 12 months."
Warner Bros and Disney have both committed to playing key titles in theatres for 45 days before transitioning to home viewing on VOD and streaming, Richards said independent distributors would also be offered the shorter window. "Absolutely, that is the plan," he said. "There's been a difficulty in the past, from a financial standpoint, using a lot of P&A to promote a film and then having to wait four to six months to really capitalise on the home entertainment market. Now, it's going to make it significantly easier for independent filmmakers to get even more films on the screens.
"We know there's a market. We know people love British and independent films and because we operate at 20% capacity [in cinemas], if you flip that around, that's 80% opportunity. That's the way that we look at it and why wouldn't we play as many films as we possibly could?"
Richards also outlined how a theatrical release window could be shortened further to 31 days, if films fall below a certain box office threshold. "That will be part of the model going forward and that's part of the flexibility that we're trying to work through with our partners in the studios," said Richards.
"Right now, the standard will be 45 days and if for whatever reason a film does not perform on opening weekend in a very similar way to the US, we will we will reduce the window to 31 days from the 45 days."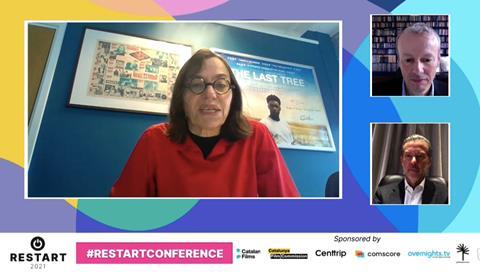 The Vue CEO, who was recently appointed chair of the British Film Institute (BFI) also shared his ambition to screen high-end drama in their venues, which comprises 90 cinemas in the UK and more than 100 other sites in Europe and Taiwan.
"The subscription services that have been producing high quality films and high-quality TV shows in the past… their comfort zone was around a month-long window," said Richards. "We're in that framework right now so I am hoping that we will be showing high quality films and high quality TV shows even on our screens in the near future. I would absolutely love to show a TV show like The Queen's Gambit on a Tuesday night over eight weeks. You're going to see a lot more of that coming forward because of this new model that we have in place."
Richards added that the pandemic has proven the power of cinema to generate revenue for films, following trials by the studios between lockdowns.
"Last year, everyone tried one big film: Universal with Trolls [World Tour] and Disney with Mulan, and over Christmas Warner Bros. with Wonder Woman [1984]," he said. "What that showed us was the importance of a theatrical release, not just in terms of box office delivery - we know it was $43 billion in 2019 - but also the impact it has in generating home entertainment revenues.
"We are the engine that drives all of those revenue streams so I think the new window that we have right now will likely kick into place with everyone, all the studios, sometime after the epidemic is over – summer, early autumn."
The session will be available to view on Screendaily.com soon.