Ilumination-Universal's Despicable Me 3 crosses $520m worldwide.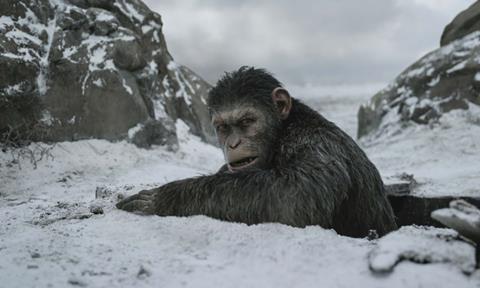 War For The Planet Of The Apes is set to begin a massive international assault day-and-date with North America. Fox International's latest tentpole will debut in 64 international territories.
Rise Of The Planet Of The Apes grossed more than $480m worldwide in 2011, while the 2014 sequel Dawn Of The Planet Of The Apes brought in more than $710m.
The well reviewed War is getting the widest international release of any in the franchise and this weekend's initial launch includes the UK, Russia, Spain, Italy and India. Rise debuted day-and-date in 25 territories, while Dawn opened in 26.
Matt Reeves takes over directing duties in the final instalment of the Planet Of The Apes trilogy that sees Andy Serkis return as Caesar, leader of the apes, joined by franchise newcomers Woody Harrelson and Steve Zahn. Karin Konoval, Amiah Miller, Terry Notary, and Ty Olsson also star.
Alien: Covenant has amassed $158.1m internationally, while DreamWorks Animation's The Boss Baby has grossed $320.8m.
Action comedy Snatched starring Amy Schumer and Goldie Hawn has reached $12.8m, while Gifted stands at $6.4m. Captain Underpants: The Epic Movie stands at $8.2m and opens in Israel this weekend. Diary Of A Wimpy Kid: The Long Haul has reached $14.9m.
Illumination's Despicable Me 3 has amassed $356.3m through Universal Pictures International. The Steve Carell and Kristen Wiig animation stands at $520.8m and has no new openings.
The Mummy stands at $308.7m, while The Beguiled starring Colin Farrell, Nicole Kidman, Kirsten Dunst and Elle Fanning opens in six this weekend, including the UK and Australia.
Pixar's Cars 3 has grossed $62.5m through Walt Disney Studios Motion Pictures International and continues the traditional staggered Pixar release pattern with 10 new territories this weekend, including the UK, Brazil, Japan, and South Korea.
Johnny Depp's action film Pirates Of The Caribbean 5 stands at $741.3m globally, with $571.9m from international territories and $169.4m from North America.
Paramount Pictures International's Transformers: The Last Knight starring Mark Wahlberg, Laura Haddock and Anthony Hopkins has amassed $385.3m. Michael Bay's fifth instalment of the action franchise stands at $506.8m worldwide, with $121.5m from North America.
Dwayne Johnson and Zac Efron comedy Baywatch has reached $104m and there are no new openings this weekend.
Warner Bros Pictures International's Wonder Woman enters the session on $380.8m. King Arthur: Legend Of The Sword stands at $103.5m, while teen romance Everything, Everything has grossed $12.9m. The House starring Will Ferrell and Amy Poehler has reached $6.1m. The R-rated comedy has no new openings.
The Shack stands at $38.9m through Lionsgate International, while Patriots Day starring Mark Wahlberg has reached $18.5m. Power Rangers has reached $55.1m and John Wick: Chapter 2 stands at $77.7m.