Heading into a San Diego jamboree that is uncharacteristically light on studio attendance this year, the US major has revealed details of its two-hour, DC-heavy session on July 23 as it aims to eclipse the Marvel Studios panel.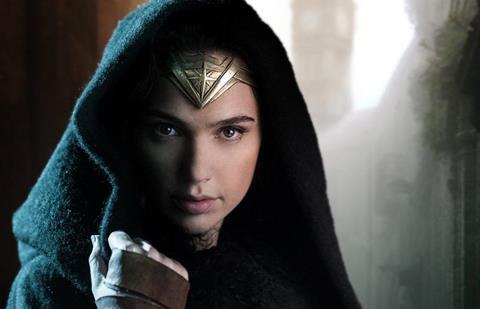 Stung earlier this year by box office that fell below expectations and reviews that were often scathing for Batman Vs Superman: Dawn Of Justice, Warner Bros chiefs are anxious to get their DC Entertainment programme back on track and dominate the agenda.
The roster includes talent from Wonder Woman and imminent release Suicide Squad, as well as non-DC year-end tentpole Fantastic Beasts And Where To Find Them.
The studio's commitment to next week's Comic-Con is shaping up to be one of the highlights of a convention where Fox, Paramount, Universal, Sony and its Screen Gems and TriStar Pictures divisions, and Lionsgate will not present slate panels. Some say the paltry Hollywood attendance is due to piracy concerns over sneak preview footage, although the production cycle must also be taken into account.
On that note, Marvel Studios returns to San Diego after skipping last year and will present a session later in the same day as Warner Bros that is expected to trumpet November 4 release Doctor Strange and Guardians Of The Galaxy Vol. 2, which is being readied for May 5, 2017.
While overall details of that panel remain scarce, president Kevin Feige arrives on the back of another $1bn-plus worldwide hit – Captain America: Civil War – and has earned a reputation as the architect of the most consistently memorable film segment of every Comic-Con Marvel Studios attends.
The Warner Bros hierarchy appears to be sparing nothing in an effort to eclipse their chief rival. Panel attendees scheduled to appear include Wonder Woman stars Gal Gadot, Chris Pine and Connie Nielsen as well as director Patty Jenkins. The film is set to open on June 2, 2017.
Meanwhile the cast of Suicide Squad will fly the flag for the comic-book adaptation as they did one year ago and more recently at CinemaCon in Las Vegas in April.
This time writer-director David Ayer and stars Will Smith and Margot Robbie, the ubiquitous Australian actress of recent release The Legend Of Tarzan, will be joined onstage at Hall H by select cohorts that include Jared Leto, Joel Kinnaman, Viola Davis, Jai Courtney, Jay Hernandez, and Cara Delevingne. The film opens this summer on August 5.
The LEGO Batman Movie director Chris McKay and star Will Arnett are on the roster to talk up the release on February 10, 2017, while Charlie Hunnam attends in support of King Arthur: Legend Of The Sword, set to open on March 24, 2017.
Kong: Skull Island stars Tom Hiddleston, this year's Oscar winner Brie Larson, John Goodman, Corey Hawkins and Jason Mitchell are on the cards to attend with director Jordan Vogt-Roberts.
Top brass will be hoping the panel can finally galvanise interest in the film after a muted response two years ago when Legendary Pictures chief Thomas Tull unveiled the first teaser. The adventure is scheduled for March 10, 2017.
Fantastic Beasts And Where To Find Them director David Yates and stars Eddie Redmayne, Katherine Waterston, Dan Fogler, Alison Sudol, Ezra Miller and Colin Farrell will thump the tubs for the Harry Potter spin-off, set to open on December 18.
In addition to the broad studio hiatus, there will be nothing film-related from Disney/LucasFilm about Gareth Edwards' beleaguered Rogue One: A Star Wars Story ahead of its December 16 release. That said, there may be surprises for fans at the Star Wars Celebration Europe event in London, which runs from July 15-17.
Dreamworks Animation has scheduled a panel for July 21 and there are individual presentations that day for Snowden marking the Con premiere of director Oliver Stone, and Luc Besson's fantasy passion project Valerian And The City Of A Thousand Planets.
The open-air Imax world premiere of Paramount/Skydance's Star Trek Beyond on July 20 is likely to be a big draw and an emotional one in the wake of the untimely death last month of Anton Yelchin. Comic-Con runs from July 21-24.