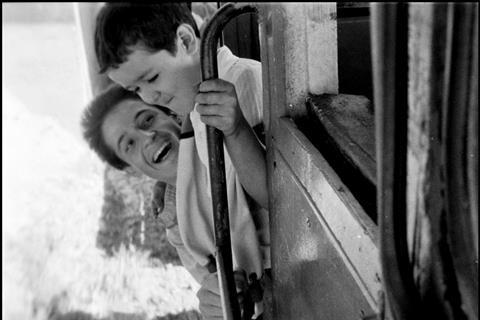 Wild Bunch International has acquired Venice Silver Lion- winning director Bakhtyar Khudojnazarov's 1991 feature, Bratan (aka Brothers), which is screening this week in Venice Classics.
The film was the debut feature of Tajikistan-born Khudojnazarov who died in 2015. He went on to make Kosh ba Kosh (international title Odd and Even) which won the Silver Lion in Venice 1993 and his international hit, Luna Papa in 1999.
Bratan has been restored by his friend and colleague, the German filmmaker Veit Helmer, whose credits include Tuvalu and Absurdistan. Helmer has spent many years searching for Khudojnazarov's early films and trying to get them back into circulation.
"Bratan is a real gem," he told Screen. " I am very excited to present the restored version of the lost 35mm [print] in Venice. Thanks to Vincent Maraval and the amazing Wild Bunch International team, audiences around the world can now rediscover this extraordinary film."
Maraval has confirmed Wild Bunch is also looking to restore Kosh ba Kosh and Luna Papa. "We have decided with great pleasure to join forces with Veit Helmer to give a second life to Bakhtyar's oeuvre, to enable it to be rediscovered," said Maraval.
European partners
Khudojnazarov studied at the renowned Moscow film school, VGIK. He moved to Berlin in the mid-1990s but continued to make films in Central Asia. The late Karl Baumgartner, producer and former head of Germany's Pandora Filmproduktion, became one of his closest collaborators.
Bratan was made when the director was only 25. It follows two brothers aged 17 and seven who live in a small Tajik town. Raised by their grandmother since their parents separated, they decide to find their father who works as a sanatorium doctor in a distant city. Thus begins an extraordinary train journey across the breadth of Tajikistan, over hills and mountains, through cities and villages, finally reaching the Afghan border.
The film was produced through Tajik Film, Soyus and Telefilm. Its cast is led by Timur Tursunov, Firus Sasaliyev and N. Arifova.