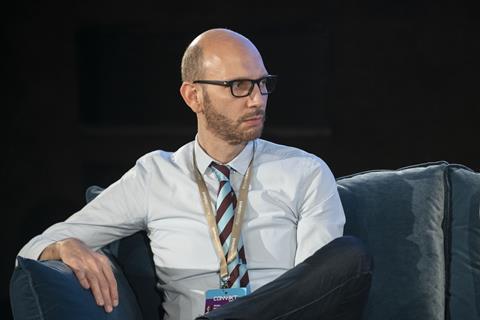 Executives from Europe's leading niche streaming services and digital aggregators said they were ready to embrace the arrival of the new US streaming platforms by investing in new talent and digital skills.
"I love it, the more the merrier," said Walter Iuzzolino, co-founder and curator of online streaming brand Walter Presents. "It's an interesting world where we can each flourish. I don't think anyone should be in the business of self-indulgence. You have to make a film for an audience and it's the same with a series. There is a role for people like us who are sort of the R&D [research and development] department for the masters of the universe."
Iuzzolino said he did not fear the inevitable and ongoing talent drain to the platforms.
"Again, I think it's a brilliant thing," he added. "[We can] back new talent if a show has allowed another talent to flourish and they now want to go in a different direction. It's our job to find the new writer and, by necessity, we have to make a virtue of that."
Iuzzolino was participating in at talk called 'I Have A Stream' at Flanders Image's CONNeXT event in Ghent this week.
Rikke Ennis, CEO of Denmark-based REinvent, which runs streaming service NutAlone with Zentropa and TrustNordisk, said talent often returns to Europe after having a taste of Hollywood.
"We've seen that a lot on the director's side at Zentropa," said Ennis. "But they keep coming back [to Denmark] because that's where they can make their own stories, the special stories, the ones you don't see on mainstream platforms.
"It's great they go [to Hollywood] to discover the world and then come back again. What they also discover is that there is a big difference between working on an American set to working on a Danish set. On the Danish set you have final cut and can say, 'This is the way I want my story to be told'. In America, you are a director for hire."
"Scale is considered to be the apex," agreed Iuzzolino. "But we are lucky as we live in a world where scale is not equated with quality or creative freedom."
Investment in collaboration vital
Collaboration with each other going forward was vital, the speakers agreed.
"We should invest much more in working together with our competitors, in shared innovation, in shared R&D," said Marike Muselaers, co-CEO of Amsterdam-based Lumiere Series.
It was a necessity, Muselaers argued, as the local platform and aggregators do not tend to have access to anything like the same audience data as global transaction video-on-demand (TVoD) services such as Apple and Amazon.
"We should invest in online marketing together," said Muselaers. "We spent all summer trying to find a digital marketer for our platform and it's been so difficult as they don't think the film and TV industry is sexy anymore. Why we are not investing in people like this together? We are all in different territories and we all need this, these new skills."
New technology benefits
The European speakers were excited about what they hoped new technologies could do for all of their businesses.
"5G will allow everyone to watch everything everywhere without downloading, AI will help us create profiles of customers and really enable us to recommend the best content to them, and blockchain will make everything much more transparent and help us tremendously with data," said Muselaers.
"Blockchain is seriously interesting to follow as the whole concept is to centralise and that is a power shift in terms of data and knowledge," agreed Muriel Joly, the head of business development at Paris-based rights aggregator Under The Milky Way. "We can't imagine what that will be five years from now if that works."
Under The Milky Way now has 5,000 films in its catalogue, Joly said. Its USP is its acquisition of films from all over the world to distribute to platforms globally.
"We work with the global transactional VoD (TVod) platforms such as Google, Amazon, Microsoft and Apple iTunes, as well as the main local ones, TF1 in France, Sky in the UK, for example," Joly explained. "We also work with [SVoD services] Amazon Prime and Netflix."
Importance of promotion
Joly revealed what the big platforms are looking for from a company like Under The Milky Way.
"Very big platforms like iTunes are non-selective so they have a very diverse catalogue," she said. "The big local ones are looking for mainstream content. It's very difficult - when you have independent films - to locally distribute them on the main local platforms when you can easily distribute them on the global ones to everyone. Then you have very specialised niche platforms that can do a good job. They have the right audience for that."
Marketing was key, said Joly. It was all very well having a film on iTunes but a potential audience had to know it was there.
"Promotional is a huge part of the work to be done," she said. "Digital marketing is at the heart of the battle."
Muselaers was in agreement and reflected on what she thought the future would mean to them all. "From a business point of view, bring out the popcorn,' she said. "From a consumer point of view it's going to be very, very confusing."