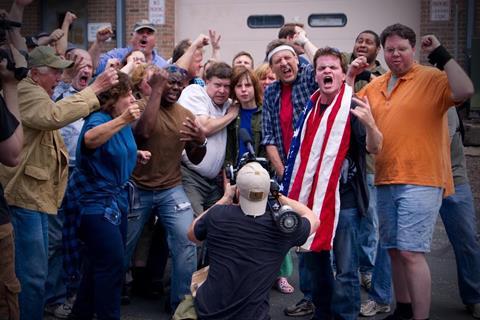 First Run Features has acquired A Gray State, the A&E IndieFilms documentary feature from Erik Nelson and executive producer Werner Herzog.
The film, which had its world premiere at the Tribeca Film Festival, will receive a US theatrical release in November along with an awards push. Following the theatrical run, A Gray State will make its television debut on A&E.
In 2010, Iraq veteran and aspiring filmmaker David Crowley began production on his film A Gray State. Set in a dystopian near-future where civil liberties are trampled by an unrestrained federal government, the film's crowd funded trailer was enthusiastically received by the burgeoning online community of libertarians, Tea Party activists, and members of the nascent alt-right.
In January 2015, Crowley was found dead with his family in their suburban Minnesota home. Their shocking deaths quickly become a cause célèbre for conspiracy theorists who speculate that Crowley was assassinated by a shadowy government concerned about a film and filmmaker that was getting too close to the truth.
Directed by Grizzly Man producer Nelson, A Gray State combs through Crowley's archive of 13,000 photographs, hundreds of hours of home video, and exhaustive behind-the-scenes footage of Crowley's work in progress to reveal what happens when a paranoid view of the government turns inward — blurring the lines of what is real and what people want to believe.
"We are very pleased to partner with First Run Features to bring A Gray State to a wider audience. The film is a powerful story that tackles some very relevant themes for our time, including the dark consequences of extreme media," Molly Thompson, senior vice-president of feature films at A+E Networks, said.
Nelson said: "A Gray State is a deep dive into some of the fault lines that are fracturing America. It's a dark ride through the tunnel of conspiracy culture, the trauma experienced by many veterans, celebrity worship, gun obsession, and the unforeseen consequences of an addiction to social media. But it is a dark ride that tries to point a way to the light."
Marc Mauceri, vice-president of First Run Features said: "We're proud and enthused to be working with Erik and A&E IndieFilms on their provocative new doc. A Gray State illustrates perfectly the sort of film that we love to focus on – a carefully crafted yet thoroughly entertaining exploration of American social and political undercurrents that will jumpstart a lot of conversations."
Herzog and Thompson served as executive producers, while Amy Briamonte served as producer. Submarine negotiated the deal on behalf of the filmmakers.