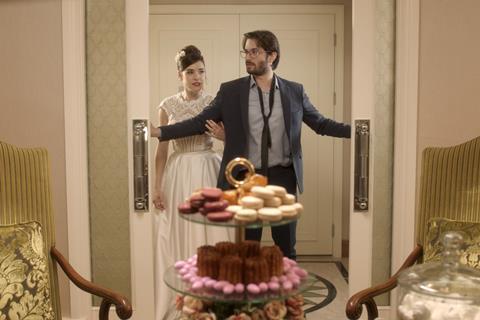 On the eve of the EFM, London-based WestEnd Films has snapped up worldwide rights to Honeymood, a romantic comedy from Talya Lavie. the director of Zero Motivation.
Honeymood is a romantic comedy set over the course of one night in Jerusalem. A bride and groom arrive at a lavish hotel suite after their wedding. Instead of relaxing and enjoying a romantic night, they get into a fight that soon develops into a dazed, urban odyssey, confronting them with past loves, repressed doubts, and the lives they have left behind.
WestEnd will be introducing the film to buyers in Berlin where it will host a private screening.
The film is produced by Eitan Mansuri and Jonathan Doweck (Foxtrot, The Operative) and co-produced by Marica Stocchi. It is written and directed by Talya Lavie, known for her first feature Zero Motivation which won both the Jury Award for Best Narrative Feature and the Nora Ephron Prize at Tribeca Film Festival in 2014.
Honeymood stars Ran Danker (Eyes Wide Open, The Gordin Cell TV series) and Avigail Harari (The Other Story) who are pictured in the first still released here.
"As a long-time fan of romantic comedies, I couldn't help but notice that practically all of them ended – in one way or another – with a wedding, or at least with the promise of a wedding. But after that ultimate happy ending, I would always find myself wondering what the happy couple is going to do now, after having solved all the misunderstandings, getting rid of their ex-partners or overcoming their families' resistance?" Lavie commented of her film.
Maya Amsellem, managing director of WestEnd Films said: "We're delighted to be working with Talya Lavie on Honeymood, a romantic comedy which smartly subverts the typical "happily ever after" ending. The film is the perfect fit for our WeLove brand, which focuses on developing strong female stories and supporting female talent, and Talya is definitely a talent to watch".