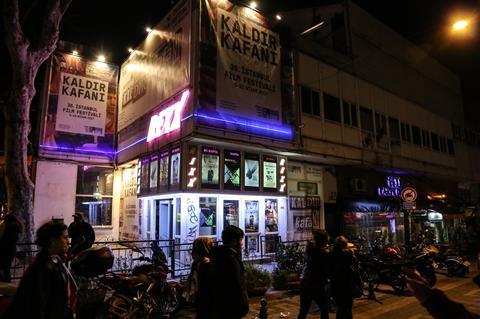 Female directors won the top two prizes at the 2018 Istanbul Film Festival as Valekska Grisebach's Western and Vuslat Saraçoğlu's Debt were awarded the Golden Tulips in the international and Turkish categories respectively.
The awards were handed out at the M. Koç Museum on 17 April.
Western, about a German man working on a construction project in Bulgaria, was awarded the top international prize by a jury including director João Pedro Rodrigues and actress Angeliki Papoulia. The film was selected for Un Certain Regard at Cannes last year.
The international jury prize went to Cocote from Dominican filmmaker Nelson Carlo de los Santos Arias.
National competition winner Debt is about a family who take in an ill neighbour and stars Serdar Orçin, İpek Türktan Kaynak, Rüçhan Çalışkur.
Further Turkish winners included Sideway, which scooped best director for Tayfun Pirselimoğlu and best actor for Tansu Biçer, who shared the award with Tolga Tekin for his role in Butterflies, directed by Tolga Karaçelik. Butterflies also won the special jury prize.
Ümit Ünal's Serial Cook won three awards; best screenplay, best actress (Demet Evgar) and best editing.
The full list of awards is below:
International Competition
Golden Tulip – Western (Valeska Grisebach)
Special Jury Prize – Cocote (Nelson Carlo de los Santos Arias)
Human Rights in Cinema Competition
Šerkšnas / Frost (Sharunas Bartas)
National Competition
Golden Tulip – Borç / Debt (Vuslat Saraçoğlu)
Best Director – Tayfun Pirselimoğlu (Yol Kenarı / Sideway)
Special Jury Prize – In memory of Onat Kutlar: Kelebekler / Butterflies (Tolga Karaçelik)
Best Screenplay – Ümit Ünal for Sofra Sırları / Serial Cook
Best Actress – Demet Evgar in Sofra Sırları / Serial Cook
Best Actor – Tolga Tekin in Kelebekler / Butterflies & Tansu Biçer in Yol Kenarı / Sideway
Best Cinematographer – Florent Herry for Kaçış / The Escape
Best Editing – Osman Bayraktaroğlu for Sofra Sırları / Serial Cook
Best Original Music – Canset Özge Can for Güvercin / The Pigeon
National Short Film Competition
Best Short Film – Sana İnanmıyorum Ama Yerçekimi Var / I Don't Believe In You But Then There Is Gravity (Umut Subaşı)
Special Mention – Doğu Yakası / East Side (Harun Durmuş)
National Documentary Competition
Best Documentary– Parçalar / Fragments (Rojda Akbayır)
Seyfi Teoman Best Debut Film Award
Güvercin / The Pigeon (Banu Sıvacı)
FIPRESCI Awards
International Competition The Rider (Chloé Zhao)
National Competition Körfez / The Gulf (Emre Yeksan)
National Short Film Competition Kötü Kız / Wicked Girl (Ayce Kartal)