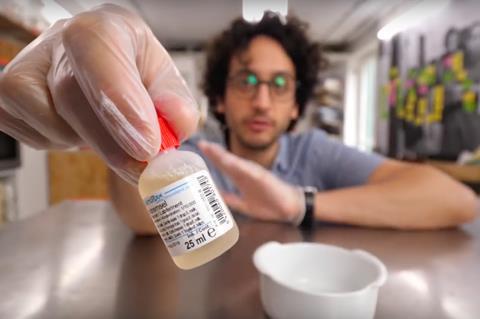 A group of French documentary makers are coming together at this week's Sunny Side Of The Doc to discuss what the wider industry can learn from how content creators are using YouTube to reach new and significant audiences. The doc event is taking place in La Rochelle from June 25-28.
Eva Zadeh is one of the producers working with YouTube talents who is participating in the 'New Platforms, New Broadcasters' roundtable.
Through her company Next Originals, Zadeh has been commissioned by French doc production giant Bonne Pioche, whose work includes March Of The Penguins, to produce streaming series with YouTube stars.
Their first collaboration is with Alexis Ainouz whose English-language YouTube channel 'Alex French Guy Cooking' has 667,000 subscribers. Zadeh has produced seven new episodes of around 10 minutes each which are streamed weekly.
"It is the odyssey of AlexFrenchGuyCooking trying to make it's own mozzarella cheese," Zadeh says of the series. "We started broadcasting it four weeks ago and it will end in July."
Zadeh is also producing a series with France's Florence Porcel, a comedian and scientist who takes a light-hearted look at science.
Potential audiences discover YouTube content by following the talent they know already, searching for specific content and via specialised channels. As a traditional broadcaster, ARTE France uses the third option to cultivate an online audience. In addition to a catch-up YouTube channel for its broadcast content, ARTE is now producing original online content for its ARTE Creative YouTube channel that has 27,000 subscribers.
"For short format content, YouTube is a good place," suggests Gilles Freissinier, director of digital development at ARTE France, who is also on the round-table.
One of its series is the French-language 'History's Creed' which explores the historical accuracy of those video games that are based on real-life events such as the French Revolution and the Second World War.
Building an audience can take years. Producer-director Julien Goetz is one of the creators of DataGuele, a French-language animated series that dissects the news in a satirical way. It was first commissioned by public broadcaster France Television and is now also backed by the CNC.
"Creating a community of more than 400.000 subscribers on YouTube took four years," explains Goetz.
"For us, the only recipe is to do our best to deliver an interesting content in each episode, nothing less, nothing more."
DataGuele is available on both YouTube and the open-source PeerTube platform.
"It's important historical broadcasters consider the internet a real channel for broadcasting new programmes, not only like a place for catch-up and 'bonus' content from the traditional TV channels," says Goetz. "That means creating and financing high value contents."
Why do audiences enjoy watching series on YouTube? It's all about being able to engage directly with the creators. "Thanks to that, [audiences] feel they are part of it, part of the same society and [the creators] are not above them like traditional broadcasters often believe," Goetz believes.
The 28th annual Sunny Side of the Doc will bring together international broadcasters, producers, financiers and distributors from the documentary world, to pitch projects, find partners and buy new content.
The 'New Platforms, New Broadcasters' roundtable takes place at 17.30 on Monday June 25.
Read more: "The 'D-word' is no longer dirty": experts on state of play for docs