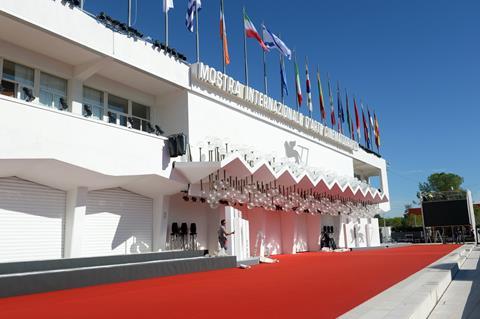 Everyone hoping to go to the Venice Film Festival should sort their accommodation soon as Netflix is understood to be booking plenty of Lido digs in anticipation of another bumper festival.
Leading the Netflix charge are likely to be Alejandro González Iñárritu's Mexico-set comedy Bardo and Noah Baumbach's White Noise starring Greta Gerwig and Adam Driver. Other potential selections include Sally El Hosaini's Syrian refugee story The Swimmers and Sebastian Lelio's Ireland-set The Wonder with Florence Pugh.
Pugh also stars in Olivia Wilde's Don't Worry Darling with Harry Styles for Warner Bros, which could be perfetto for the Lido and is set to open in the US and a number of major international markets in late September.
The US auteur roster could also include Focus Features' Tar starring Cate Blanchett as a brilliant composer in Todd Field's first film since Little Children 16 years ago. Canadian actor-turned director Sarah Polley's Women Talking is likely to be in the mix if ready in time although Toronto might be a strong bet for the ensemble drama.
Plotting a Venice viaggio while still in Cannes is Tilda Swinton, star of a trio of films with festival and awards potential: Joanna Hogg's The Eternal Daughter, Guillermo del Toro's Pinocchio and Wes Anderson's Asteroid City.
Venice regulars
Venice director Alberto Barbera may be tempted by his regulars. Emanuele Crialese has 1970's-set L'immensità, starring Penelope Cruz, Jafar Panahi's romantic drama No Bears is in post, while Luca Guadagnino has Bones And All starring Timothee Chalamet, to which Amazon-owned MGM holds most rights.
Sony Pictures Classics may also be in town with Florian Zeller's The Son starring Hugh Jackman, Anthony Hopkins and Vanessa Kirby; while former Golden Lion winner Darren Aronofsky's (The Wrestler) The Whale starring Brendan Fraser is a strong candidate. A24 holds US rights and also has Daina O. Pusic's mother-daughter fairy tale Tuesday starring Julia Louis-Dreyfus, as well as Ari Aster's Disappointment Blvd. with Joaquin Phoenix.
Another return ticket to the Lido could be booked for Martin McDonagh who is finishing off The Banshees Of Inisherin starring Colin Farrell and Barry Keoghan. McDonagh won the best screenplay prize for Three Billboards Outside Ebbing, Missouri five years ago.
Buzzy international titles include Macedonian director Teona Strugar Mitevska's drama The Happiest Man In The World, French director Alice Diop's fiction feature debut Saint Omer, and Maria Schrader's She Said, the story of The New York Times investigation that brought down Harvey Weinstein.
Argentinian director Lisandro Alonso's Eureka is much anticipated and stars Viggo Mortensen, Paolo Virzì has Monica Bellucci starrer Siccità and there is also excitement over Ahmed Yassin Al Daradji's Hanging Gardens and Yasmine Benkiran's road movie Queens.
From South Korea, Ryoo Seung-wan's 1970's-set Smuggle is a potential selection after his The City Of Violence played in Venice's midnight section in 2006.
Philip Sotnychenko's debut feature Lapalissade and Rock. Paper. Grenade by Iryna Tsilyk were both in Cannes Marché's Ukraine In Focus programme. Other potential selections from Ukraine could include long-gestating war documentary Company Of Steel by Yulia Hontaruk and Roman Liubyi's Iron Butterflies, the documentary-fiction hybrid about the shooting down of Malaysia Airlines Flight 17.
From the Nordic region Saara Saarela's Finnish eco-thriller Memory Of Water is in post and Milad Alami's Sweden-Norway Opponent about an Iranian exile is completed.
The Venice Film Festival traditionally announces its line-up at the end of July. The festival runs from August 31 to September 10.