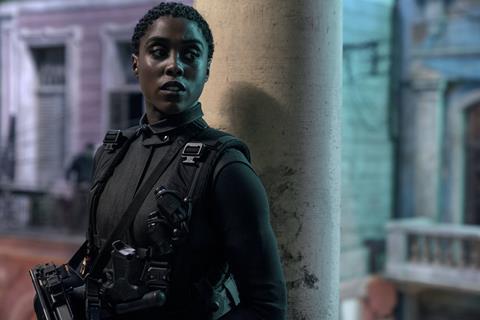 The decision by MGM, Eon and Universal to postpone the global release of No Time To Die from November 2020 to April 2, 2021 has Hollywood and global exhibitors looking anxiously at the handful of tentpoles left this year.
The studio acted after monitoring a surge in Covid-19 cases in the key markets of the UK, Spain, France and Germany, despite most cinemas remaining open in all of those key markets. The territores typically generate sizeable chunks of a major release's international box office and were they not to perform at optimal level that could result in hundreds of millions of dollars getting left on the table.
"Under normal conditions, No Time To Die would earn between $800 million and a billion dollars worldwide," said David A. Gross, who runs the US-based film consultancy Franchise Entertainment Research.
The UK accounted for an unadjusted $125m for Spectre in 2015 out of $681m internationally, and $161m from $804m for Skyfall in 2012.
Bond's backers will have been concerned by the worrying impact of the pandemic on other parts of the world too, such as Latin America. Also crucial is the fact that while roughly 70% of the US market has reopened, experts believe it could be another few weeks before Los Angeles returns, while New York remains hard to call.
The delay to Bond is the latest blow for a stricken exhibition sector desperate to attract audiences back to their venues. Today (October 5), Cineworld confirmed its 127 sites in the UK and 536 Regal cinemas in the US are "temporarily suspending operations" from Thursday, with potentially 45,000 jobs at risk.
Even though it may seem scant consolation to cinema owners struggling to survive, it is encouraging MGM and Eon are sticking to their global theatrical release plan with No Time To Die's international distributor Universal Pictures. Despite unprecedented uncertainty in 2020, many in the traditional Hollywood ecosystem agree that in an ideal world a global day-and-date release is still the best way to maximise a major tentpole's earning power. More than ever in a world dominated by the viral message spread of social media, synchronised worldwide releases get the most value out of a coordinated marketing spend, mitigate against piracy fears, and preclude plot spoiler leaks.
Still to come this year – at time of writing – are Warner Bros/Legendary's Dune and Warner Bros' WonderWoman1984 lined up for December 18 and 25 in the US, respectively. Disney/Pixar has Soul scheduled for November 20, while Universal/Dreamworks Animation has dated Croods: A New Age for November 25 in what is likely to be a shortened US theatrical release followed by PVoD for the holiday season.
But ultimately, the unpredictable trajectory of the virus globally will determine the fate of those few remaining heavyweight studio releases waiting in the wings. The redundancy of comps and projections in an outlier year have plunged studio executives into a guessing game. This has sparked various PVoD experiments and multiple schedule changes.
Most recently Marvel Studios' Black Widow and Steven Spielberg's West Side Story for 20th Century Studios were pushed into the 2021 logjam, where they will join 2020 outcasts like Universal's F9 (which has just been pushed from April 2 to Memorial Day weekend on May 28 to avoid clashing with No Time To Die), Universal/Illumination's Minions: The Rise Of Gru, and Paramount's Top Gun: Maverick and A Quiet Place: Part II.
In April. Universal putTrolls World Tour on to PVoD in most territories and claimed it was a success, yet has opted to push F9 and Minions: The Rise Of Gru to keep theatrical prospects alive.
After multiple delays, Warner Bros finally gave Hollywood a reference point for theatrical tentpole releases in 2020 when it released Tenet. Christopher Nolan's sci-fi thriller has grossed more than $300m worldwide after six weekends in release, of which some $45m comes from North America after five and $262m from international markets. How studios interpret the performance of Tenet will inform what they do with their own films – although only up to a point; the old Hollywood adage that nobody knows anything bears particular relevance now.
And while Warner Bros stuck by Nolan and won the gratitude of exhibition when it released Tenet in theatres, the gamble appears not to have paid off entirely.
The film launched internationally first and opened in the US two weeks later as the studio waited for US markets to open up. Tenet's disappointing US gross will make others think twice about rushing into the domestic arena, especially as Los Angeles, San Francisco and New York remain closed.
"Domestically this is far from what Warner Bros had hoped for in terms of returning cinemas to its potential box office form," said Jeff Bock of Exhibitor Relations. "It's not holding up. It's not like Titanic many years ago when there were 5%, 10% drops… A 30% hold where there are no new blockbusters coming out isn't a good hold."
Gross agreed, noting that under "normal conditions" a Nolan film would have opened on around $50m and finished around $200m. To make up for lost box office, he says Tenet would need to drop no more than 10% each weekend. Instead, its drops have been around 67%, 30%, and 28%.
Anecdotally the evidence is that US audiences remain hesitant to return to theatres. Warner Bros executives have said the Tenet release is a marathon not a sprint, and the reopening of Los Angeles and New York – which bring in roughly 15% of total US box office – cannot come soon enough.
The studio's plan was always to play to the strength of international markets with Tenet. There is broad agreement that the international box office is solid, and there are still 25 markets to go including Latin America (excluding Mexico), Indonesia, Philippines, and India.
International first
Much has been made of Tenet's international-first release pattern, yet the model is not uncommon. But global day-and-date is always preferred if conditions allow.
" You want that global day-and-date release," says one executive, "because that's where you make the most bang for your buck."
That is the strategy on Wonder Woman 1984. and the same calculus applies to sci-fi fantasy Dune. In both cases, it will be critical that Los Angeles and New York have opened – Wonder Woman grossed roughly half its $822m global take from North America. If key US markets remain closed, observers say Warner Bros could push either or both films.
Disney had already committed to a marketing spend on Mulan when the lockdown began, so it opted for a US release on Disney+ and opened the film theatrically in some of the international markets where the platform had not yet launched. But international box office has gone poorly, generating a lowly $66.8m to date including $40.6m in China, where the China-set adventure flopped spectacularly, probably due to cultural insensitivity and a lack of audience engagement.
There have been no official numbers of the Disney+ viewership, and further detail is expected in Disney's earnings call on November 12 to discuss fiscal full year and fourth quarter 2020 financial results. Bock of Exhibitor Relations said it was a logical move to release a film that wasn't "top tier" on the platform given that the streaming service "is making a killing right now"
The decision to push Black Widow into summer 2021 shows the studio is prepared to hold back its major tentpoles for theatrical audiences first – and there was likely a desire to keep Marvel Studios head Kevin Feige happy too.
As the pandemic continues to rage, Hollywood executives will be agonising over such decisions for months to come.