Dutch producers rarely looked to the UK as potential partners until recently.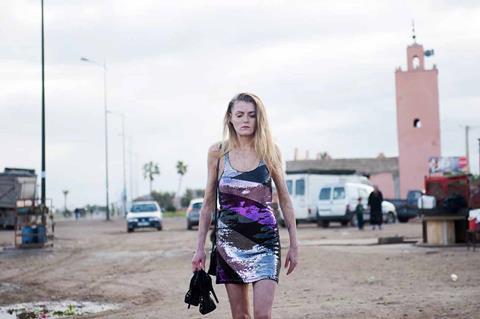 The UK is not part of Eurimages and the BFI's minority co-production fund has limited resources. But now the two industries are coming much closer together as a cluster of high-profile new projects attests. Sacha Polak's Dirty God, screening in Sundance this week and the opening film at IFFR, is one of several recent or upcoming features on which UK and Dutch producers have partnered.
Further examples include Elbert van Strien's Scotland-set psychological thriller Marionette, Paula Van Der Oest's The Bay Of Silence (both are in post) and Steve McQueen's recently announced feature documentary project, The Occupied City.
"It is always a matter of long-term investments and getting to know each other's markets and each other's players," says Doreen Boonekamp, CEO of the Netherlands Film Fund.
"You need projects that can naturally be co-produced between the Netherlands and the UK."
In the case of Dirty God, Dutch director Sacha Polak wanted to set the film in the UK where acid attacks are more commonplace than in the Netherlands. She and producer Marleen Slot of Amsterdam-based Viking Film decided to "give it a try," as Slot puts it.
The BFI was an early champion of the project, providing development backing through the minority coproduction fund, which was then overseen by Isabel Davis, who is now at Screen Scotland.
"We talked with Isabel and her team for two, maybe three years," Slot recalls. "We worked with her team on the script. It was really an intense cooperation."
Through Polak's co-screenwriter, Susanne Farrell; the filmmakers were put in touch with Emu Films' Mike Elliott, whose credits include The Goob and Catch Me Daddy, who came on board as the UK co-producer. Slot was impressed by Elliott's previous experience as a first assistant director on European co-productions made by directors such as Lars von Trier and Michael Winterbottom.
"We felt Mike would understand what it is to work on a European film," says Slot. "He was a great support for us."
Dirty God is an example of a Dutch-UK collaboration that worked near perfectly both creatively and in terms of financing.
"After the BFI came on board, we started talking with BBC Films who had just had a transformation in people working there. It was now Rose Garnett and Eva Yates. When they read the project, they were immediately enthusiastic," says Slot.
Dirty God was set up as a Netherlands-UK-Ireland-Belgium co-production and received backing from the Netherlands Film Fund, and through Netherlands Production Incentive. Post-production work took place in Belgium and Ireland and the production accessed financing from those territories. The producers were able to access Eurimages funding as the UK contribution was under 30% of the total budget.
London-based Independent came on board to handle sales and the film secured a UK distributor in Modern Films.
"For us, the whole experience [of working with the UK} was extremely positive," Slot enthuses. "It gave the film the possibility to reach a bigger audience."
Now veteran Dutch producer-director Ate de Jong is planning to make his new sci fi- thriller, Click (working title) as a UK-Dutch coproduction through his company, Mulholland Pictures. For certain Dutch projects, he says, UK producers can be the perfect partners.
"The smaller independent films have more of a structural reason to work with the UK than the slightly bigger films," he says. "For Dutch producers to go to [the UK], it only makes sense if you can tap into a form of a [regional] subsidy. If you only go for the cash rebate [the UK's Film Tax Relief] you can just as well stay in Holland. The cash rebate in England is not better than in Holland."
Dutch producers with English-language projects they can't finance entirely at home are now more likely to look toward the UK and there are examples of producers accessing both the UK tax relief and the Dutch rebate which is worth up to 35%. They include Elbert van Strien's €5m psychological thriller Marionette which was put together as a Netherlands-Luxembourg-UK coproduction. UK outfit Black Camel, which is based in Edinburgh and run by Arabella Page-Croft and Kieran Parker, is the UK co-producer.
Location work was done in Aberdeenshire and the project received £250,000 (€220,000) from Creative Scotland. It also accessed the UK tax relief which Brandt describes as "quite easy to apply."
The UK ended up providing around 12% of the overall budget.
"We knew there were not many co-productions from the Netherlands with the UK but then we met with Arabella and Kieran from Black Camel and though they were very a good match," explains the film's Dutch producer Claudia Brandt of Accento Films. "We liked the same films. We thought, OK, let's make this film together."