Sales agent Wide House is to be reunited with German filmmaker Rüdiger Suchsland on his next documentary Hitler's Hollywood for delivery next year.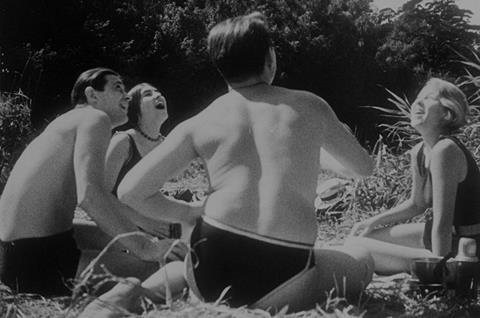 Wide House's Anais Clanet confirmed at this week's DOK Leipzig that she will be handling sales on Suchland's new project after selling his first documentary, From Caligari To Hitler [pictured], which premiered at Venice 2014 in the Classics sidebar.
Speaking to ScreenDaily in Leipzig, Suchsland revealed that his second collaboration with the Berlin-based Looks Film & TV and Wiesbaden's Friedrich Wilhelm Murnau Foundation has already received backing from Medienboard Berlin-Brandenburg, HessenInvestFilm, and broadcasters ZDF/Arte.
"Hollywood was always something that the Nazis wanted to emulate," he explained with reference to the film's title.
"Speeches and documents provide evidence that there was a clear plan by the Nazis, and particularly Goebbels and Hitler, to establish a kind of alternative Hollywood, to copy Hollywood's international success and to use it for Nazi ideology.
"They made the films as apolitical as possible and created a star system, which not only consisted of German stars. Johannes Heesters was from Holland, Zarah Leander was Swedish and Marika Rökk came from Hungary."
Suchsland added that he is likely to invite film historians Thomas Elsaesser and Elisabeth Bronfen to contribute to this new film after they appeared in From Caligari To Hitler, and German director Oskar Roehler - who made the fiction film Jüd Süß - Film ohne Gewissen about the making of Veit Harlan's controversial 1940 film Jud Süß - is another potential interview partner
LEIPZIG BRIEFS
Loznitsa award
Ukrainian filmmaker Sergei Loznitsa received the Leipziger Ring Award last night (29 Oct) from the Peaceful Revolution Foundation for his new documentary The Event (Sobytie) using archive footage to chart the failed three-day coup d'etat in Russia in August 1991.
The Dutch-Belgian co-production by Loznitsa's co-owned company Atoms & Void had its world premiere at the Venice Film Festival last month.
Magnet trio
Full Metal Village director Sung-Hyung Chu's latest project My Brothers And Sisters In The North (working title) about the everyday lives of North Koreans is among three upcoming titles added to MagnetFilm's sales line-up.
The other two documentaries are DoP Ngo The Chau's Yohji Yamamoto - Dressmaker about the life and work of the internationally renowned fashion designer, and Mathias Frick's Álvaro Siza - Acclamation Of Light, about the Portuguese star architect as the second part in a series of portraits on Pritzker Prize laureates (the first film in 2013 had been dedicated to the Japanese architect Tadao Ando).
Swedish focus
Documentary filmmaking from Sweden will be in the spotlight at next year's Krakow Film Festival (29 May - 5 June, 2016) in its Focus On sidebar.
An innovation at next year's festival will be the introduction of a new non-competitive section, Docs+Science, dedicated to science documentaries.
Rise and Shine nabs Cow
Berlin-based Rise and Shine World Sales will handle international distribution for Imam Hasanov's Holy Cow about one man's dream of bringing a European cow to picturesque village in Azerbaijan.
The film - which was presented as a work in progress at IFP's Focus on Documentaries in New York in early October, will have its world premiere at IDFA next month.