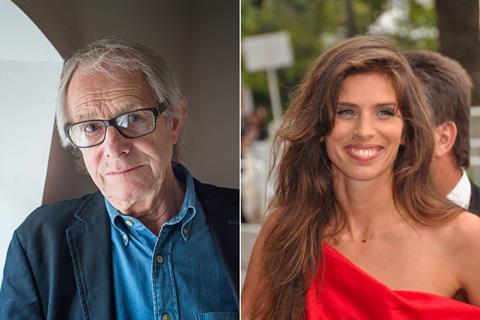 Wild Bunch International (WBI) will launch sales on Ken Loach's new feature The Old Oak during Cannes and has released fresh details about the project.
The production sees Loach return to northeast England, where he shot 2016 Palme d'Or winner I, Daniel Blake, and Sorry We Missed You, which also world premiered in Competition in Cannes in 2019.
It is set in a former coal-mining village that has never fully recovered from the closure of the mines. Its once-thriving, proud community struggles to keep old values alive amid growing anger and despondency, while few youngsters stick around.
An influx of Syrian refugees, drawn by the abundance of cheap and available housing, brings in fresh blood but it is not clear whether the community will accept them and what it means for the last remaining pub The Old Oak.
First confirmed cast members include Dave Turner, who had a supporting role in Sorry We Missed You, and big-screen newcomer Ebla Mari.
The production is lead-produced by Loach's long-time producer Rebecca O'Brien at Sixteen Films with the backing of the BFI and BBC Film, in co-production with France's Why Not Productions and Belgium's Les Films Du Fleuve.
Sixteen Films co-partner and long-time Loach collaborator Paul Laverty has written the screenplay and cinematographer Robbie Ryan is also attached. The production is due to start shooting on May 19.
Other new projects on WBI's Cannes slate include French director Maïwenn's period drama Jeanne du Barry.
It is freely inspired by the life of Jeanne Bécu who was born as the illegitimate daughter of an impoverished seamstress in 1743 and went on to rise through the Court of Louis XV to become his last official mistress.
Maïwenn will also star as Jeanne du Barry opposite Johnny Depp as Louis XV. Other cast members will include Louis Garrel, Pierre Richard and Noemie Lvovsky.
It is produced Why Not Productions.
There have been numerous reports about the production in the French press, but this is the first time its details and cast have officially been confirmed.
Maïwenn has prepared a mood reel for the production and will be in Cannes to present the project to buyers and answer their questions about her plans for the production.
It marks Maïwenn's sixth film after DNA, which was selected for Cannes special 2020 label; Mon Roi, which debuted in Cannes Competition in 2015, winning Emanuelle Bercot best actress, and Polisse, which clinched the Cannes Jury Prize in 2011.
Other director presentations being lined up by WBI for Cannes include the market premiere of a new promo-reel for marine life documentary Whale Nation in the presence of filmmaker Jean-Albert Lièvre and his producers.
Cannes titles
WBI will be in Cannes this year with 14 titles making their debuts in Official Selection or one of the parallel sections.
Fresh Cannes title additions to its slate include Rachid Bouchareb's Our Brothers in Cannes Premiere and Special Screenings documentary Feminist Risposte by Marie Perennes and Simon Depardon.
Our Brothers explores the events surrounding the real-life killings in December 1986 of students Abdel Benyahia and Malik Oussekine by police officers in separate incidents in Paris, against the backdrop of student protests against education reforms.
It marks the 12th feature for Bouchareb, whose credits include the Oscar-nominated features Days Of Glory, Outside The Law and Dust Of Life. The
The company has also revealed that it is handling French director Simon Rieth's first film Summer Scars, which will world premiere in Competition in Critics' Week.
The fantastical coming-of-age tale revolves around two brothers whose lives are changed forever by a dangerous game of chance while on holiday in the beach resort of Royan.
It is produced by Les Films Du Poisson and Spade, the production subsidiary of The Jokers Films, which is handling the French release.
Other recently announced additions include Un Certain Regard title Butterfly Vision by Ukrainian director Maksym Nakonechnyi.
Inspired by the experiences of women serving in Ukraine's armed forces against Russian-backed separatists in the country's eastern Donbas region since 2014, It revolves around a female Ukrainian aerial reconnaissance expert, who returns home after being held as a prisoner for many months.
Further previously announced titles on the WBI slate include Michel Hazanavicius's zombie comedy and opening film Final Cut.
It is also handling five films in Competition, spanning Ali Abbasi's Holy Spider, Arnaud Desplechin's Brother And Sister, Cristian Mungiu's R.M.N., Jean-Pierre and Luc Dardenne's Tori And Lokita and Claire Denis's Stars At Noon.
In other Official Selection sections, it is also selling Midnight Screening selection Rebel by Adil El Arbi and Bilall Fallah (aka Adil & Bilall) and Louis Garrel's The Innocent, which debuts Out of Competition.
The company is also selling Directors' Fortnight selection The Five Devils by Lea Mysius.
Other previously announced titles on its slate expected to debut at festivals later this year include Alice Diop's Saint-Omer, Mounia Meddour's Houria, Kim Chapiron's Mercy (aka The Young Imam) and Jimmy Laporal-Tresor's Rascals.