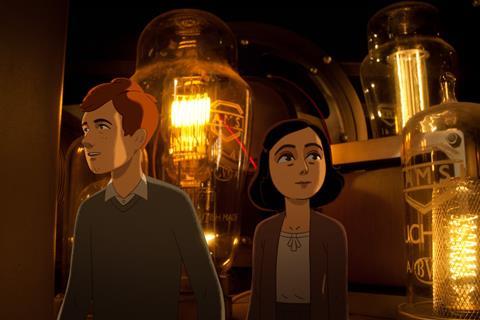 Paris-based sales powerhouse Wild Bunch has unveiled an eclectic slate ahead of the American Film Market in November, including two new animation projects involving Natalie Portman and Ari Folman.
New live-action titles on the line-up include Pablo Trapero's La Quietud, which stars Bérénice Bejo and Martina Gusman, and Régis Roinsard's whodunnit The Translators.
"Against the backdrop of the reality of the current market, we continue to secure a very varied line-up," commented Wild Bunch sales chief Eva Diederix.
"We're also pushing further this market into the animation scene building on our recent sales experiences with titles like The Red Turtle."
Animation drive
The company will launch sales on feature-length animation Foxy Trotter. Set against the backdrop of 1970s Los Angeles, the Natalie Portman-produced project focuses on the psychedelic adventures of talented rock photographer Foxy Trotter.
Chris Prynoski, whose recent credits include Nerdland, will direct from a screenplay by Jess Rotter, Michael Reich, Jessica Hindley and Mike Pinkney.
The storyline revolves around Foxy's motorbike road trip across the most surreal parts of America – into a psychedelic dimension known as the O-Zone - to retrieve a stolen roll of film containing compromising pictures of her best-friend, singer Ronnie.
Portman is producing the film under her Fairy Dust banner and will also voice a secondary role. Bold Films are also on board as producers as is Prynoski for Titmouse.
A script will be available at the AFM for the film which is currently in pre-production.
Wild Bunch is also launching a second animation title, Ari Folman's Where Is Anne Frank?, a big-screen adaptation of the eponymous, best-selling graphic novel he created with long-time collaborator David Polonsky.
Spinning off the world-famous childhood diaries of Holocaust victim Anne Frank, the graphic novel revolves around Kitty, the imaginary girl Frank wrote to in her private journal.
Kitty comes to life in the Anne Frank House in Amsterdam and her memories are reawakened by reading the diary. She comes to believe that if she is alive, Anne must be alive too and sets out on a quest across Europe to find her lost friend.
The film is being supported by the Anne Frank Fonds, the charitable foundation created by Otto Frank in 1963 to manage all the rights of his daughter's works and memorabilia.
Yoni Goodman, who worked on Folman's The Congress and Waltz With Bashir, is director of animation, Polonsky is art director and award-winning German composer Max Richter is on board for the music.
Live-action titles
On the live-action front, Wild Bunch will launch sales on Trapero's La Quietud, in which Buenos Aires-born French-Argentinian actress Bejo plays in her first Argentinian feature after a lifetime spent in France and working mainly within the French film industry.
She is set to star opposite Gusman and Edgar Ramirez as a woman who returns to the family estate near Buenos Aires after long years of absence, reuniting her with her mother and sister.
Her return forces all three women to confront the emotional traumas and dark secrets of their shared past, which played out against the backdrop of the military dictatorship.
Trapero's Matanza Cine and Paris-based Macassar Productions are teaming on the film, which is currently shooting.
The AFM line-up also includes French director Régis Roinsard's audacious whodunnit, revolving around nine top translators who are hired to translate the eagerly awaited final instalment of a best-selling trilogy.
In a bid to keep the new work under wraps, they are confined to a luxurious bunker but when the first ten pages are leaked online, all of them fall under suspicion of being the perpetrator.
Produced by Alain Attal at Les Productions du Trésor, the film brings together a high-profile international cast featuring France's Lambert Wilson, the UK's Alex Lawther, Spain's Eduardo Noriega, Ukranian-born actress Olga Kurylenko, Italy's Riccardo Scamarcio, Denmark's Sidse Babett Knudsen, Brazil's Maria Leite, Greek actor Manolis Mavromatakis, Germany's Anna Maria Sturm and French actress Sara Giraudeau.
Previously announced titles
Wild Bunch will continue sales on Jean-Stéphane Sauvaire's previously-announced Addicted To Violence, Philippe Godeau's Omar Sy-starrer Racine (previously titled YAO), which is in pre-production; Claire Denis's High Life, which wraps shooting this month; Lorenzo Mattotti's The Bears' Invasion Of Sicily and Bi Gan's Long Day's Journey Into Night, which are also in production, and Brian Welsh's Beats, which is in post-production.
The company will also show first images for Pierre Godeau's Jean-Jacques Sempé adaptation Raoul Taburin, starring Benoit Poelvoorde as an ace bicycle dealer who is petrified that his customers will discover he is incapable of riding a bicycle himself.