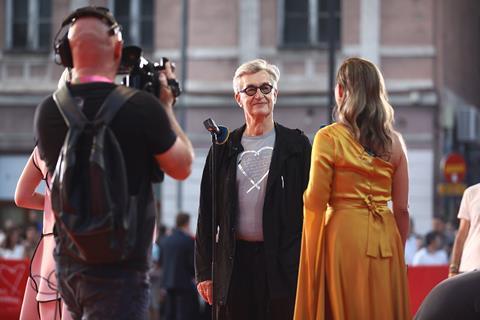 German director Wim Wenders has spoken in defence of Karlovy Vary and San Sebastian film festivals, which have attracted criticism for choosing to give honorary awards to Johnny Depp.
Talking to Screen at the 27th Sarajevo Film Festival, where he received an honorary award of his own last week, Wenders said: "If somebody is condemned because of some accusations, it's very hard sometimes to prove the opposite.
"Sometimes it is proven without a shadow of a doubt, like the case of Mr. Weinstein in my opinion.
"In other cases, if there's a shadow of a doubt, I think people are free to give an award for what [Depp] is doing as a film artist. Johnny has certainly made a number of great movies and supported some great projects.
"Who am I to judge how he leads his life?" continued Wenders, "unless somebody tells me in a way that convinces me that he's done something that an artist of his status should not do."
Wenders suggested that contemporary morals would have restricted great artists of the past. "By today's standards, Picasso should be taken out of all museums," he said. "So how do you deal with that? Picasso wasn't exactly kind with some of his women."
The Depp situation is indicative of a broader conversation regarding "the notion of truth and fake news", which Wenders called "a cultural issue of our times."
"We're just in such an upheaval today," he said. "Nobody really knows the norms, the internet and social media falsify so many things. So unless we as a society agree on certain terms, I refuse to judge anybody."
Karlovy Vary and San Sebastian have received criticism in the past week for the choice to honour Depp, including from domestic abuse charities in the UK. San Sebastian director Jose Luis Rebordinos responded on Friday, saying that the festival "will always defend…the presumption of innocence and that of the right to reintegration".
In 2020, Depp lost his libel case against UK tabloid The Sun after it described him as a "wife-beater" in a 2018 article.
Covid concern
Wenders and his work are subject to a Tribute programme running throughout the festival, which presented the director with the honorary Heart of Sarajevo on Friday 13.
He expressed ambivalence over the Covid protocols at the event, which does not require attendees to wear face masks inside venues in accordance with local rules in Sarajevo.
"Coming over from Germany where the rules are pretty strict, I was at first very pleased because it felt free and easy [in Sarajevo]," he said. "In the streets you feel relatively safe; unless you see the hard partying at night, which is sometimes quite removed from security issues.
"Inside the theatres a lot of people really don't care," he continued. "Some theatres have separation, that's fine."
"[The pandemic] is not over – it's still there, and the variant is dangerous. Even though I'm vaccinated I still put on my mask; but very often I'm the only one in the room."
"I think it would be better if more people were aware that it's still an issue. Nobody wants a beautiful thing like the Sarajevo film festival to be known as a super-spreader."
Foundation
However, Wenders said he is glad to be in Sarajevo 10 years after his first visit; and is pleased that physical events are able to take place again.
"The spirit of the city is still there – it's a very open, peaceful city, a city for dialogue and coexistence," he said, noting that this was the first time since before the pandemic that he had seen films indoors. "Festivals have an important part in keeping films and the spirit of cinema alive."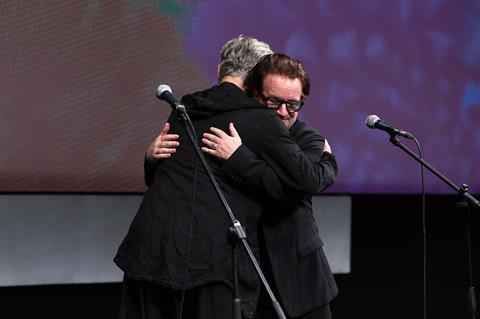 Wenders set up The Wim Wenders Foundation in 2012, as a means of restoring and preserving his work. The Foundation recently completed its 20th restoration, 2000 thriller The Million Dollar Hotel, presented yesterday at the festival by Irish rock superstar Bono.
During a Masterclass event held on Monday, the director described Netflix as "the worst enemy of filmmakers" for forcing them to conform to the company's vision. Wenders said the Foundation gives him a measure of control over his work that would be absent were it to land in the catalogue of a major streaming platform.
"I hated the idea that my films in the end would disappear in some bottomless pit of some library," he told Screen. "I think [the Foundation] would be an interesting model for other filmmakers. It enables your films to survive on their own; to not be in somebody's ownership, and not be at the mercy of somebody who decides what is going to happen to them or not."
He revealed that each restoration costs around €100,000, with the Foundation beginning the financing for its 21st title.
Of his next projects, Wenders said he has picked up work on two feature documentaries which were interrupted by the pandemic. He shot some material for them in summer 2020, and has further shoots planned for September; both projects are "ongoing", and will take three or four years to complete.
Wenders gave the Masterclass as part of the festival this afternoon (Monday 16), where he also discussed his extensive career, and his thoughts on filmmakers starting out today. The Tribute programme continues this evening with a screening of his (1984) classic Paris, Texas.