Universal's biopic records Martin Scorsese's best-ever UK debut to land top of the box office; eOne's 12 Years a Slave expands to 386 sites and adds $5m (£3.06m) for $11.7m (£7.12m).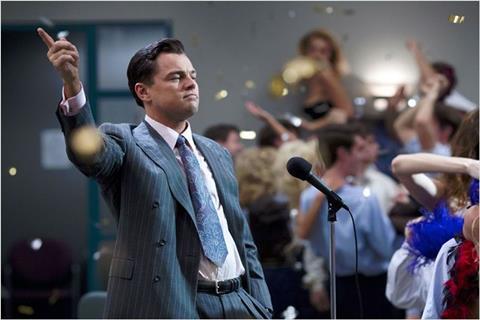 Achieving director Martin Scorsese's best-ever UK debut in the process, The Wolf of Wall Street has charted top of the UK box office.
Universal's biopic posted an excellent $7.4m (£4.52m) opening at a healthy average of $14,913 (£9,068) to dethrone 12 Years a Slave. That tops Scorsese's previous best debut recorded by Gangs of New York (his first collaboration with Wolf lead Leonardo DiCaprio) with $4.3m (£2.6m).
Scorsese's strongest UK performer is currently The Departed's $21.1m (£12.8m) and The Wolf of Wall Street is in a strong position to overtake that. If it holds well, it could even challenge Hannibal's $35.5m (£21.6m) result as the UK's best-ever 18-rated performer.
Also for Universal, Last Vegas fell a respectable 36% in its third weekend to add $1.4m (£828,000) as it crossed the £5m mark. The comedy-drama now stands at $8.9m (£5.44m).
EONE
Despite dropping a place to second, 12 Years a Slave enjoyed a strong second weekend as it expanded to 386 sites and posted a 25% week-on-week rise.
eOne's awards contender grossed $5m (£3.06m) at an average of $13,012 (£7,915) to climb to $11.7m (£7.12m) after just ten days in play. Its $6.7m (£4.1m) first week result bodes well for its coming week and should set it up to pass £10m by the end of next weekend.
Also for eOne, Delivery Man recorded a $1.1m (£670,234) second weekend for $3.7m (£2.2m) to date in the UK.
ENTERTAINMENT
Having become director David O. Russell's best-ever UK performer last week, topping Three Kings' $11.4m (£7m) result, American Hustle dropped a slim 20% in its third weekend.
Entertainment's awards contender took a further $2.5m (£1.5m) for an excellent $15.5m (£9.4m) to date, and will cross the £10m mark in the coming days.
DISNEY
Despite experiencing its biggest drop last weekend, Frozen isn't finished in the UK just yet as it posted just an 8% decline in its seventh weekend.
Disney's Oscar-nominated animation grossed $1.9m (£1.15m) as it retained fourth spot and has amassed a terrific $56.2m (£34.2m) so far. It should cross £35m by the end of this weekend at the very latest. 74.24% of its entire gross has come from 2D screenings.
Saving Mr. Banks stands at $6.9m (£4.2m) through Disney.
FOX
Rounding off this week's top five was Devil's Due as it scared up $1.6m (£1m), including just over $214,000 (£130,000) in previews.
Fox's found footage horror recorded an average of $4,936 (£3,001) from its 334 sites, but its debut is down on recent original found footage horrors, such as The Devil Inside's $3.3m (£2m) from 377 sites.
Also for Fox, Mandela: Long Walk to Freedom fell 52% in its third weekend as it added $501,000 (£304,848) for $6.3m (£3.8m) to date, while Walking with Dinosaurs posted just a 16% drop in its fifth weekend and has journeyed to $8.7m (£5.3m).
The Secret Life of Walter Mitty stands at $10.7m (£6.5m) and is now unlikely to topple Tropic Thunder's $14.2m (£8.7m) as Ben Stiller's highest grossing directorial outing in the UK.
WARNER BROS
Having become the third 2013 release to hit £40m last weekend, Warner Bros' The Hobbit: The Desolation of Smaug added $1.4m (£847,078) for $68.1m (£41.6m) after six weeks in play.
Meanwhile, aided by its return to IMAX screens, Gravity posted an increase in its 11th weekend to take $816,000 (£497,188) and climb to $47.4m (£28.8m). A similar weekend could well see the sci-fi set to pass £30m in the UK, a superb achievement for an original film.
LIONSGATE
After adding just over £1m during its first Mon-Thurs window, The Railway Man fell two places to eighth in its second weekend with $1.3m (£776,512).
Lionsgate's adaptation of Eric Lomax's autobiography is up to a sturdy $5m (£3.03m) after ten days in play.
The Hunger Games: Catching Fire stands at $55.5m (£33.8m) following a $307,000 (£186,603) ninth weekend.
PARAMOUNT
Comedy sequel Anchorman 2: The Legend Continues experienced its first major drop in its fifth weekend, adding $423,000 (£257,000) for a strong $23.2m (£14.1m) through Paramount. It still has an outside chance of hitting £15m in the UK.
No such fortune for Paranormal Activity: The Marked Ones as it will end its run as the lowest UK grosser of the found footage franchise. Paramount's horror stands at $4.7m (£2.87m) after a $161,000 (£98,000) third weekend.
Oscar contender Nebraska has taken $933,000 (£567,000) to date, one of director Alexander Payne's weakest UK performances.
SONY
Released in one site through Sony, documentary Tim's Vermeer (about inventor Tim Jenison's attempts to understand the painting techniques of Johannes Vermeer) posted a $2,200 (£1,334) UK debut.
UPCOMING RELEASES
This week sees saturation releases for Paramount's Jack Ryan: Shadow Recruit, Warner Bros' Grudge Match, StudioCanal's Inside Llewyn Davis and Entertainment's August: Osage County.
Soda Pictures' Teenage and Dogwoof's Dark Days are among the films receiving a limited release.