Tonight at a ceremony in Oslo, Icelandic director Benedikt Erlingsson became the first director to win the Nordic Council Film Prize for both his first and second feature films.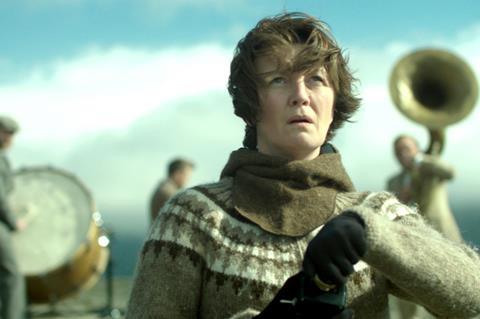 This year's winner was Woman At War, with Erlingsson sharing the $53,000 (DKK 350,000) cash prize with co-writer Ólafur Egill Egilsson and his fellow producers Marianne Slot and Carine Leblanc from France's Slot Machine.
Woman At War, which premiered at Cannes Critics Week and is Iceland's submission for the foreign-language Oscar race, is about a middle-aged woman who becomes an eco terrorist to try to save Iceland's highlands, while also juggling her own desire to adopt a child.
The Nordic Council jury said: "In Woman at War, a big, pressing issue is channeled through a big, unrelenting personality. Halla, the vigilante working secretly to preserve the world's eco-system, is played magnificently yet unfussily by Halldóra Geirharðsdóttir.
"The jury appreciates how he [director Erlingsson] confidently mixes action scenes and intimate moments with atmospheric Verfremdung, placing live musicians in his frames and having them be the interpreters of the moods and feelings of the characters. The result is an exhilarating film."
Woman At War is Erlingsson's second fiction feature; his debut Of Horses And Men also won the Nordic Council Film Prize in 2014.
2019 marked the 15th year of the Nordic Council Film Prize - this year's the other nominees were Winter Brothers, Euthanizer, Thelma and Ravens.
The only other director to have won the award twice before is Thomas Vinterberg, with The Hunt and Submarino.
Beta Cinema handles international sales for Woman at War