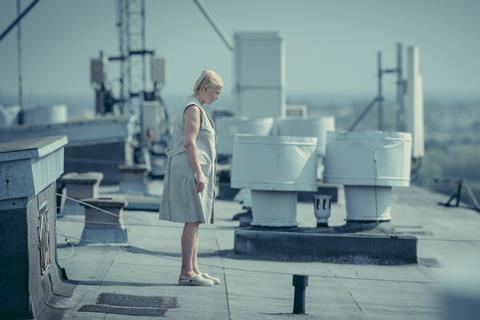 Anna Jadowska's Woman On The Roof was the winner of the third annual Screen International Best Pitch Award presented at this year's Polish Days, the industry event for the Wroclaw-based New Horizons International Film Festival (August 12-22).
The €1.4m production, by Warsaw-based Donten & Lacroix Films with Paris-based Blick Productions and Sweden's Garagefilm, is Jadowska's latest feature film after Touch Me (2003), It's Me (2005) and Wild Roses (2017).
She directed the Netflix series Ultraviolet 2.0. The Bear and a segment of its mini-series Erotica 2022, and her third project with Netflix, Open Your Eyes, is currently in postproduction.
The screenplay for Woman On The Roof, inspired by real-life story of an elderly woman committing a bank robbery, was written by Jadowska and had been presented at pitching events in Cottbus and Sofia as well at the Polish Days in 2019.
Founded in 2006 by Maria Blicharska and Monika Sajko-Gradowska, Donten & Lacroix Films' recent productions include Emre Kayis' Anatolian Leopard, Rafael Lewandowski's documentary Herbert, A Barbarian…, Sarunas Bartas' Frost, and Julia Kowalski's Raging Rose.
Last year's Screen International Best Pitch Award winner – Jakub Piatek's debut feature Prime Time - was picked up for international sales by Warsaw-based IKH Pictures Promotion, subsequently invited to this year's Sundance Film Festival and sold to Netflix where it was released globally as a 'Netflix Original' in June 2021.
Meanwhile, Leszek Dawid's mountaineering drama Broad Peak, which won the first Screen award in 2019, is now expected to be released by Polish distributor Kino Swiat in 2022.
Woman On The Roof will now benefit from coverage on Screen throughout its life cycle, from production to its expected future debut at a film festival.
Other works in progress projects
Jadowska's film was among seven works in progress presented to an audience of international sales agents, distributors and festival programmers. The 2021 line-up included Kuba Czekaj's English-language debut Lipstick On The Glass and Michal Chmielewski's Stateside-set, debut feature Roving Woman, produced by production company Friends with Benefits with Wim Wenders and Orian Williams as executive producers.
Footage was also shown from Olga Chaidas' second feature Imago, described as "a post-punk psychological drama about the most complex bond, the one between a mother and a daughter", which was part of the Rotterdam-Berlinale Express and awarded the Eurimages Co-Production Award and a ScripTeast Special Mention in 2019; and Marcin Filipowicz's debut feature Broys, an intimate, emotional coming of age story in black-and-white, which already has IKH Pictures Promotion onboard to handle international sales.
Other prizes awarded at Tuesday evening's closing ceremony were the ColorOffOn Film Postproduction Award to Broys, while the No Problemo Music Award was handed out to three projects - Damian Kocur's drama Bread and Salt, Roving Woman and Woman On The Roof - instead of just a single one as in previous years.
The tenth edition of Polish Film Days also saw eight new film projects also pitched to potential co-producers and funding partners, including documentary filmmaker Agnieszka Zwiefka's €950,000 fiction feature debut She, starring Jowita Budnik (Birds Are Singing In Kigali).
Another was Jan Holoubek's €3m Doppelgänger, described by producer Anna Wasniewska-Gill of the TVN Discovery Group in her pitch as "a psychological drama with elements of a thriller spy movie" and inspired by the true story of a Polish spy from the communist era of the 1970s. Former European Shooting Star Jakub Gierszal is to play the lead.
Kamila Tarabura also pitched her feature-length debut No One's Calling, based on the true story of three strong female characters; while producer Pawel Kosuń of Centrala Film and director Katarzyna Gondek presented her thriller/black comedy The Root Crown which will be partly shot in English and already has Polish actors Katarzyna Figura (Never Gonna Snow Again) and Kinga Preis (Suicide Room) confirmed.
Producer Katarzyna Samson from Król Dopalaczy Film presented psychological crime thriller Whack A Mole directed by Pat Howl (Go Fish!). The €1.17m project would have begun shooting this week but had to postpone production due to Covid-related issues.
This year's Polish Days ran as an in-person event once from August 15-17, after moving online last year when New Horizons was pushed back to November due to Covid-19. 180 delegates took part this year.