Mr. Torquay's Holiday and The Field secure special mentions at the Best of Boroughs (BoBs).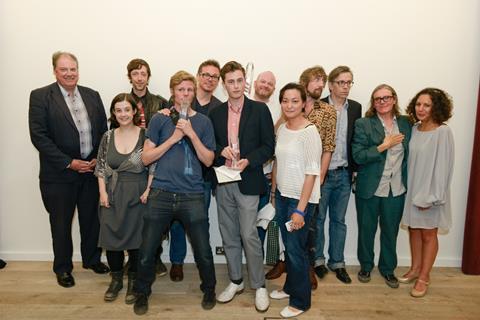 Writer-director Fred Rowson and producer Christine Cheung have won the the BoBs Jury Award for their short film Woodhouse, which chronicles the investigation into an unknown creature in a South London nature reserve.
Film London hosted the Best of Boroughs last night [Sept 5], showcasing the 18 film-making teams who made a short film through the 2012/13 London Borough Film Fund Challenge (LBFFC).
This year's jury was made up of Made in Dagenham producer Stephen Woolley, BFI Film Fund senior production executive Chris Collins, film critic Finn Halligan, Encounters Short Film Festival MD Liz Harkman and head of talent development and production at Film London Deborah Sathe.
On selecting the winner, who receives a prize worth £2,000, the jury said: "Woodhouse is a visual and aural treat. It is imaginative and intriguing, capturing South London suburbia past and present. The gorgeous photography and compelling original score are a pleasure for the viewer. It drily and entertainingly interweaves its narrative threads and leaves you wanting more."
Two other films were given special mentions:
Mr. Torquay's Holiday, written and directed by Aaron Trinder, and The Field, written and directed by Andy Orr and Matt Jones.
The jury said: "Mr. Torquay's Holiday is a great concept, a short with ambitions to tell a feature length story and an excellent lead performance. How should an agoraphobic face the end of the world? A big ambitious question addressed in a well made short film.
"The Field wears its seriousness lightly. We loved the surreal elements, and performance style from the two leads. We enjoyed the journey from feel good romance to murderous chase. Great work."
This year marks the first time the LBFFC scheme was open to film-makers from all London boroughs. The teams received dedicated training sessions and up to £4,000 towards the production of their short film.
Funded through Creative Skillset's Creative Talent Development Fund, with support from the BFI, seven participating boroughs and Performance Film and Media Insurance, Film London supported 18 creative and dedicated groups of film-makers in fulfilling their short film ambitions through LBFFC.
Film London's Best of Boroughs Showcase and London Borough Film Fund Challenge 2012/2013 has been funded by Creative Skillset's Film Skills Fund, the National Lottery through the BFI, the participating boroughs and Performance Film and Media Insurance.
The 18 shorts showcased included:
Anita
Writer/Director: Geoff Bell
Producer: Emily O'Connor
Atalanta
Writer/Director/Producer: Nadia Hammoud
Battlecock!
Director: Ben Mallaby
Writers: Toby Williams, Paul F. Taylor
Producer: Elizabeth Marshall
Close
Writer/Director: Geoffrey Taylor
Producer: Fiona Lamptey
Going Under
Writer/Director: Toby Paton
Producers: Christopher Brown, Savannah James-Bayley
I Don't Care
Writer/Director: Carolina Giamata
Producers: Penny Linfield, Mary Kearns
In My Own Wor(l)ds
Director: Enrico Rovira
Writers: Veronica Martin, Enrico Rovira
Producer: Grant Cummings
Little Ones
Director: Jo Coates
Producer: Lindsey Dryden
Mr. Torquay's Holiday
Writer/Director: Aaron Trinder
Producer: Fizzy Oppe
On The Bridge
Director: Sameer Patel
Writer/Producer: Elena Fuller
Passenger
Writer/Director: Ed Rigg
Producer: James Davidson
Puja Nights
Writers/Directors: Tanjil Rashid, Daniel Marc Janes
Producer: Isabella de Rosario
Some Things Mean Something
Writer/Director/Producer: Dee Meaden
Streets in the Sky
Director: Julian Brown
Writers/Producers: Julian Brown, Tim Sargent
The Field
Writers/Directors: Andy Orr, Matt Jones
Producer: Kirk Lake
Up on the Roof
Director: Nour Wazzi
Writer: Anthony Attah
Producers: Nour Wazzi, Tom Harberd
Wasps Nest
Writer/Director: Joseph Mannion
Producers: Eoin Glaister, Lee Cameron
Woodhouse
Writer/Director: Fred Rowson
Producer: Christine Cheung