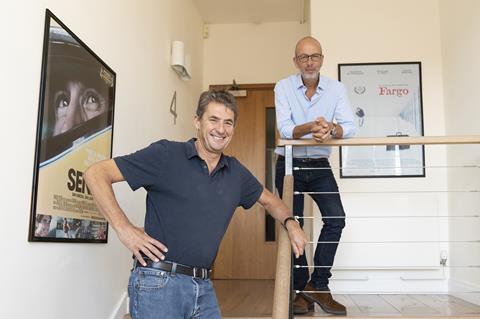 Tim Bevan and Eric Fellner, founders of Working Title Films, are set to receive honorary fellowships from the UK's National Film and Television School (NFTS).
The producing duo will collect the prizes from NFTS chairman Patrick McKenna at the school's annual graduation ceremony on February 27. It recognises individuals who have made an outstanding contribution to the industry.
Co-chairs of Working Title Films since 1992, Bevan and Fellner have forged a reputation as two of the UK's most prominent and successful producers. Under their leadership, Working Title has produced more 100 films that have grossed in excess of $8 billion at the box office, with titles such as Four Weddings And A Funeral, Bridget Jones's Diary and Shaun Of The Dead. Their films have also won 14 Academy Awards across features including Darkest Hour, Fargo, Elizabeth and Atonement.
In a joint statement, Bevan and Fellner said: "As producers who hold both storytelling and education at the heart of what we do, we are hugely honoured to be receiving an Honorary Fellowship from the NFTS."
The NFTS will also honour Sally Wainwright, the Bafta award-winning writer and director of British television dramas Gentleman Jack, Happy Valley and Last Tango in Halifax among others.
Previous recipients of the fellowship include Amma Asante, Asif Kapadia and Barbara Broccoli.