Theatre uses new Samsung LED technology.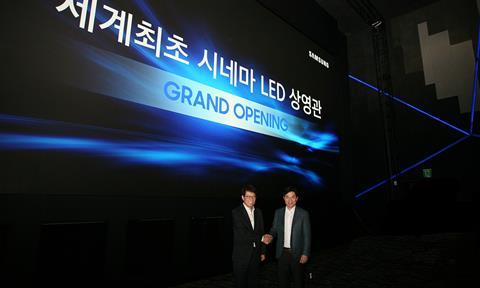 Major South Korean exhibitor Lotte Cinema today (July 13) opened what it claims is the world's first projector-less digital cinema with Samsung Electronic's new 4K LED screen in Seoul.
Dubbed the 'Super S', the new screen is in the Lotte World Tower branch of the conglomerate's multiplex chain and will start screening Cars 3 and Spider-Man: Homecoming from tomorrow.
With 96 LED cabinets making up the 10.3m x 5.4m screen, the Super S has a brightness of 146 foot-lambert (FL) – about 10 times that of the typical projection lamp – and supports High Dynamic Range (HDR), according to Lotte Cinema.
Samsung Electronics also incorporated JBL speakers from Harman, the automotive component and audio company it acquired earlier this year.
HS Kim, president of Visual Display Business at Samsung Electronics, said: "On the basis of Samsung's display technology, we've commercialised cinema LED screens that do not require projectors," adding he was proud Samsung was at the centre of "important change" in cinema history.
Yang Woo-suk, director of box office hit The Attorney, said: "It's an innovative change in 120 years of cinema history to see images on a cinema screen that applies its light source directly."
Calling the Super S "a new paradigm of film exhibition", Lotte Cinema said it plans to continue its cooperation with Samsung Electronics and is also looking at taking advantage of the LED brightness to launch "kids' cinemas" and "dining cinemas" as well as show live broadcasts of sports, online game tournaments and music concerts.
Read more:
The next big thing in cinema technology could be LED screens