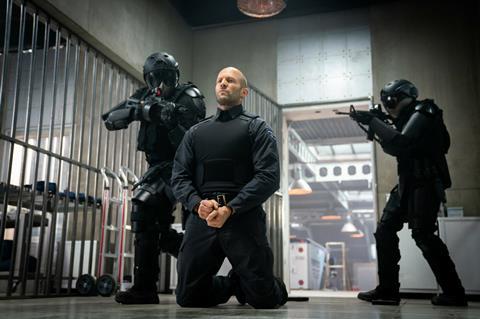 China opening boosts Jason Statham actioner 'Wrath Of Man'
UPDATED: Guy Ritchie's Wrath Of Man arrived in China last week, plus seven new international territories, taking the territory total to 16 so far. The Jason Statham actioner grossed an estimated $13.5m for the weekend period, taking the international total for distributor Miramax to $41.6m.
Wrath Of Man has also grossed an estimated $14.6m in North America for United Artists Releasing, taking the global total to $56m.
In China, data gatherer Artisan Gateway estimates $8.6m for the weekend period, and $17.5m since the official release last Monday (May 10).
In a number of Middle East markets, Wrath Of Man opened number 1 with a confirmed $2.8m, 20% ahead of Ritchie's last film The Gentlemen, and 129% ahead of John Wick 2. Ukraine also saw a first-place opening, with $482,000.
In holdover markets, Australia and New Zealand added an estimated $861,000, down 25%, taking the total to $4.4m for local distributor Studiocanal after three weekends of play.
Russia/CIS added another $636,000 (down 60%) in its fourth session, taking the total for distributor Volga to a robust $11.5m.
Wrath Of Man, which is based on 2004 French film Cash Truck and is produced by MGM and Miramax, stars Statham as a man who is hired by a Los Angeles cash truck company to transport consignments of cash around the city. Secretly, he aims to identify and entrap the people who earlier killed his son in a cash truck robbery.
Next major markets to open the film are Mexico (May 20), Scandinavia (May 21) and Spain (May 28).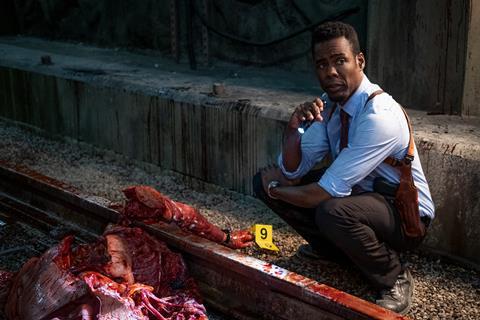 'Spiral' begins international rollout with $3.3m
UPDATED: Lionsgate and Twisted Pictures' Spiral: From The Book Of Saw topped the North America box office with a confirmed $8.75m. Concurrently, the franchise reboot – which is the ninth film in the Saw series – opened in 16 international markets, grossing a confirmed $3.2m.
In Russia/CIS, Spiral opened in second place behind Peter Rabbit 2 with an estimated $959,000. In South Korea, Spiral topped the chart with $793,000, on par with the debut of Jigsaw (2017), the previous film in the Saw franchise. In Australia, Spiral landed in third place – behind Angelina Jolie starrer Those Who Wish Me Dead and Wrath Of Man – with Aus $620,000 ($481,000).
Darren Lynn Bousman (Saw II, III and IV) directs Spiral, which introduces new characters to the serial killer story, and stars Chris Rock, Samuel L Jackson, Max Minghella and Marisol Nichols.
Jigsaw grossed $38.1m in North America and $64.9m in international markets for a combined $103m.
Spiral lands in the UK today (May 17) – as cinemas reopen after a government-mandated lockdown lasting nearly five months – and then in Spain (May 21), Netherlands (May 27) and Sweden (May 28). Italy and Finland follow in June, France and Belgium in July, and Germany and Japan later in the year.
'Peter Rabbit 2' kicks up $3.1m
Columbia Pictures' Peter Rabbit 2: The Runaway began phase two of its international rollout at the weekend, adding an estimated $3.1m from eight markets, taking the international total to $21.1m.
The sequel opened at number 1 in both Russia/CIS (with $1.3m) and Mexico ($465,000), and in UAE and Saudi Arabia with $455,000 and $300,000 respectively.
In Australia and New Zealand, where Peter Rabbit has been on release respectively for eight and seven weeks, takings were down a slim 3%.
Peter Rabbit 2 opens in the UK today – a key market, since the original Peter Rabbit film grossed £41.1m ($58.0m) in the UK and Ireland in 2018. Openings in Brazil, France and Japan follow in June, and Germany, Italy and Spain in July.
The original Peter Rabbit grossed $115m in North America, $236m in international, and $351m worldwide. In the sequel, Peter (voice of James Corden) quits the garden for the big city, where misadventures ensue.
'Those Who Wish Me Dead' boosted by Australia opening
UPDATED: New Line/Warner Bros' Those Who Wish Me Dead expanded into 21 new markets at the weekend, taking the territory total to 33, and generating a confirmed $2.8m for international. Totals to date are $4.34m in international, $3m in North America (where the film debuted at the weekend) and $7.3m worldwide.
Notable new territory opening was Australia, where Those Who Wish Me Dead debuted with a chart-topping Aus $1.2m ($968,000). Saudi Arabia began with $534,000, and Russia/CIS with $418,000.
The film lands in the UK today (May 17). Angelina Jolie stars as a fire warden and survival expert who shelters a 12-year-old boy (Finn Little) who witnessed two men (Nicholas Hoult, Aidan Gillen) kill his father. Those Who Wish Me Dead is directed and co-written by Taylor Sheridan, and based on the novel by Michael Koryta.