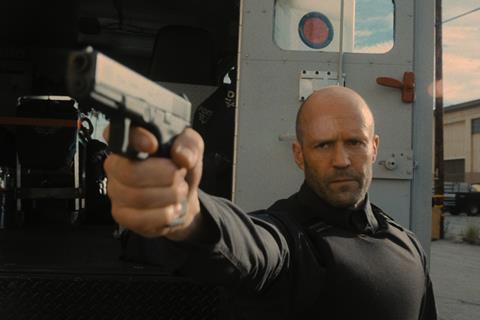 Jason Statham actioner 'Wrath Of Man' strong in Russia, Australia
UPDATED: With Guy Ritchie's Wrath Of Man now playing in nine international territories, Miramax has started to release figures for the title: $17.5m so far. The Jason Statham actioner gtossed $4.4m internationally over the weekend and also opened in North America at the weekend via United Artists Releasing, topping the box office with $8.1m, taking the global tally to $25.8m including $794,000 in previews in China, where the film opened wide on Monday (May 10).
Top international market for Wrath Of Man is Russia/CIS, with $10.2m after three weekends. Russia was the first territory to open the film (on April 22).
Australia and New Zealand have grossed a combined $3.2m after two weekends of play for local distributor Studiocanal. Wrath Of Man topped the box office in both territories for two weekends in a row – takings this weekend were $982,000 and $148,000 respectively.
Taiwan has grossed $2.5m with the MGM/Miramax title after two weekends of play.
Miramax reports that the film has so far debuted at the top of the box office in eight of its nine opening markets, which are: Russia/CIS, Australia, New Zealand, Taiwan, Singapore, Indonesia, Croatia, Serbia and South Africa.
Wrath Of Man, which Ritchie co-wrote with Ivan Atkinson and Marn Davies, is based on 2004 French film Cash Truck, written by Nicolas Boukhrief and Eric Besnard. Statham plays a man who is hired by a Los Angeles cash truck company to transport consignments of cash around the city. Secretly, he aims to identify and entrap the people who earlier killed his son in a cash truck robbery.
Upcoming key markets to open the film are Mexico (May 13), Scandinavia (May 21) and Spain (May 28).
'Those Who Wish Me Dead' begins international rollout
UPDATED: New Line/Warner Bros' Those Who Wish Me Dead has begun its rollout, landing so far in 12 territories including South Korea, Malaysia, Singapore and Spain, and grossing a confirmed $1.2m. Warner Bros reports that film topped the box office in six of its 12 markets. The film should pick up steam this coming weekend, opening in 25 more territories including Russia, Australia and Mexico. The UK follows on Monday May 17, when cinemas are set to reopen in England and Scotland.
Angelina Jolie stars as a fire warden and survival expert who shelters a 12-year-old boy (Finn Little) who witnessed two men (Nicholas Hoult, Aidan Gillen) kill his father. The film is directed and co-written by Taylor Sheridan, and based on the novel by Michael Koryta.
South Korea opening lifts 'The Croods: A New Age'
UPDATED: Universal's release of DreamWorks Animation's The Croods: A New Age received a boost at the weekend, thanks to a chart-topping $1.3m opening in South Korea. Overall, the animated sequel took $1.6m in international markets, up a little over 9% on the previous session, and taking the total to $109.2m. Adding in North America ($57.7m), the global tally is $166.9m.
Universal reports that The Croods: A New Age overcame the challenge of a major dust storm in South Korea, achieving the best opening day of 2021 in the country, and the best animation opening day of the pandemic.
Key markets still to come for The Croods: A New Age include Brazil, Germany, France, UK and Italy. The original The Croods grossed $587m worldwide in 2013.
Brazil opening boosts 'Godzilla Vs Kong'
UPDATED: Warner Bros and Legendary's Godzilla Vs Kong landed in Brazil at the weekend, topping the box office with debut takings of $823,000. Overall, the monster mash-up grossed a confirmed $2.2m from 45 international markets (down 21%), taking the total to $329.7m. Including the North America tally of $93m, the global total is $422.7m.
In cumulative totals, top international territories for Godzilla Vs Kong are China ($187.9m), Australia ($20.9m), Mexico ($19.4m), Taiwan ($12.6m) and Russia ($11.8m).
The $423m so far compares with a $525m lifetime total for Godzilla in 2014, $387m for Godzilla: King Of The Monsters in 2019, and $567m for Kong: Skull Island in 2017.
Meanwhile, New Line/Warner Bros' Mortal Kombat took a confirmed $1.4m in international markets at the weekend, down 53%, taking the total to $35.1m. Including North America, the videogame spinoff has reached $73m.
Sony's 'The Unholy' stays top in Mexico
UPDATED: Sony Pictures International Productions continued to enjoy success with a diverse range of titles in international markets. In Mexico, Screen Gems' The Unholy enjoyed its third straight week at the top spot, with weekend takings of $545,000 and $4.4m to date. Overall, the religious-themed horror grossed $1.2m at the weekend, for an international cume of $10m. Jeffrey Dean Morgan stars in this feature directing debut from screenwriter Evan Spiliotopoulos (Beauty And The Beast, The Huntsman: Winter's War).
In Russia, V2. Escape From Hell, a war drama co-directed by Timur Bekmambetov (Night Watch, Day Watch), took $904,000 in its second session, down just 13% from the opening frame. Total so far is $2m. The film is based on the true story of Mikhial Devyataev, a Soviet pilot during the Second World War who escapes from a Nazi concentration camp by hijacking a German aircraft.
In South Korea, romantic drama Waiting For Rain delivered $455,000 in its second frame, taking the total to $2.4m. The film follows the relationship of a young man and woman, who are separated geographically but find connection through letter writing.
And in Taiwan, Man In Love – a local-language remake of the 2014 South Korean romantic drama – added $390,000 in its sixth frame, taking the total to $14m. The film tells the story of a low-level gangster who learns he has a terminal illness and falls in love for the first time.
Other China box office results to follow.