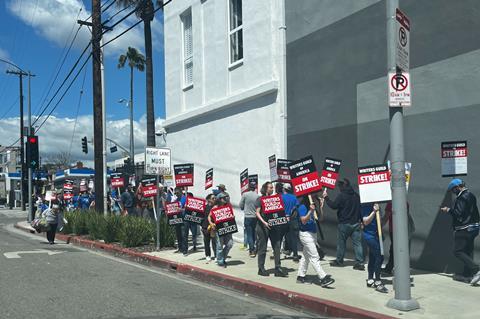 The Writers Guild of America (WGA) and Alliance of Motion Picture and Television Producers (AMPTP) have said they will resume talks next week.
Both sides confirmed the development and will schedule a meeting for an as yet unspecified day.
The announcements by the WGA and AMPTP came on the 136th day or twentieth week of the union's work stoppage after it had begun to look like there might be a lengthy pause before talks resumed.
Last month AMPTP issued a statement to press containing their counter-offer of August 11. That prompted a response from the WGA in which the union said the Hollywood companies proposals were "neither nothing, nor nearly enough".
While AMPTP called its counter-proposals "comprehensive", the union said many of the points were modelled on the deal struck with Directors Guild Of America in June.
The WGA provided a chart of how much it would cost each studio and streamer annually were they to accede to its demands for increased compensation, streamer residuals (where relevant) and benefits, among other things.
The example was given that these additional payments would cost Warner Bros Discovery $45m and Disney $72m respectively, for example – around one-tenth of one percent of annual revenues ($43.1bn and $82.7bn) and Amazon less than one-hundredth of one percent ($31m to $514bn).
Sources have told Screen they expected a resolution to the writers strike first so members can create scripts, before there is a deal for the actors.
It remains to be seen how that will play out, however the announcements by the parties on Thursday evening will offer encouragement at a time when many thought there would be an extended period without negotiations after August's flurry of correspondence between the two sides.
In a separate development, a law passed by California legislators granting unemployment benefits eligibility to striking workers is now with governor Gavin Newsom for approval.