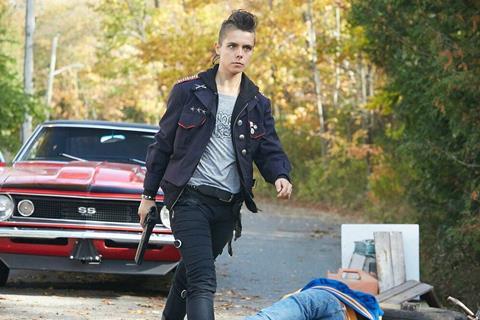 XYZ Films has licensed US rights to the apocalyptic adventure Riot Girls to Good Deed Entertainment's new genre label, Cranked Up Films.
The distributor has earmarked a summer theatrical and on demand release oo the film directed by Jovanka Vuckovic, who directed a segment of the first all-female horror anthology XX that premiered at Sundance 2017.
XYZ Films staged a private screening of the film at the Los Cabos International Film Festival in late 2018. The screening was outside the official festival selection and attracted a solid turnout of US buyers as XYZ Films continues to explore alternative sales launch pads away from the distractions of major markets.
Madison Iseman (Jumanji: Welcome To The Jungle) and Paloma Kwiatkowski (Bates Motel) star in Riot Girls, which takes place after a mysterious illness has killed all adults, leaving the town of Potter's Bluff divided into two factions – the 'East side', made up of scavengers, and the 'West side', which hoards its wealth in the former high school and is ruled by a tyrant played by Munro Chambers (Turbo Kid).
When Eastsider Jack (Alexandre Bourgeois, Departure) kills two Westsiders on a scavenging mission, he is captured and sentenced to public execution, forcing his sister Nat (Iseman) and her best friend Scratch (Kwiatkowski) to cross into dangerous territory in a desperate bid to save him.
"It was a totally new experience for me, making something that at its heart is so youthful and fun," said Vuckovic. "Riot Girls has been described as 'Riverdale' meets Lord Of The Flies with a blasting punk soundtrack, strong women characters and positive LGBTQ representation. I hope young people turn out in droves to see Riot Girls in theatres and on demand this summer because we made it for them."
"It's our honor and pleasure to be involved in this exciting project from a groundbreaking director like Jovanka," said Good Deed Entertainment / Cranked Up CEO and founder Scott Donley. "Riot Girls manages to entertain, frighten and create a world that's akin to our own current pop culture climate."
Vuckovic directed from a screenplay by Katherine Collins. Lauren Grant of Clique Pictures produced, and the executive producers are Brian Kavanaugh-Jones of Automatik, Chris Ferguson of Oddfellows Entertainment, Phil Hunt and Compton Ross of Head Gear Films, John Bain of Level Films, Mark Gringas and John Laing of Urban Post Production, Michael Roban, Vuckovic, and Collins. Sandra Yee Ling is co-executive producer.
Good Deed Entertainment's executive director of acquisitions Brandon Hill negotiated the deal for US rights with XYZ on behalf of the filmmakers.